[AD] Please note that links within this post are affiliate links, meaning that with purchase of any of these products, the writer is given a small commission fee. Full Disclaimer.
Do you have yoga lovers in your life but just don't know what to buy them? Maybe you're thinking of getting into yoga yourself.
If you couldn't tell already, I'm an avid yoga lover. My other posts about yoga really got me in the mood to talk more about my favourite, flexible exercise. With my birthday coming up, I specifically wanted to create a wishlist for any fellow yoga lovers, and the yogis in your life.
From my experience, the best place to start is with the basics. Therefore, I'll not be covering any elaborate yoga equipment such as straps, bands, wheels, etc.
What do you need to get started or to take your practice to the next level?
With yoga, all you need is space, a basic idea or a guided tutorial, and time. I often hear about how people have no time to sit with a yoga routine or meditation. But you see; you do have time! You just can't focus long enough to use it to your advantage because there's always something else battling for your attention.
My advice to you is to sit with it. Do it for one day for just ten minutes and see how it feels. Then keep bringing yourself back again and again until it becomes the one place you can go to make yourself feel more at peace.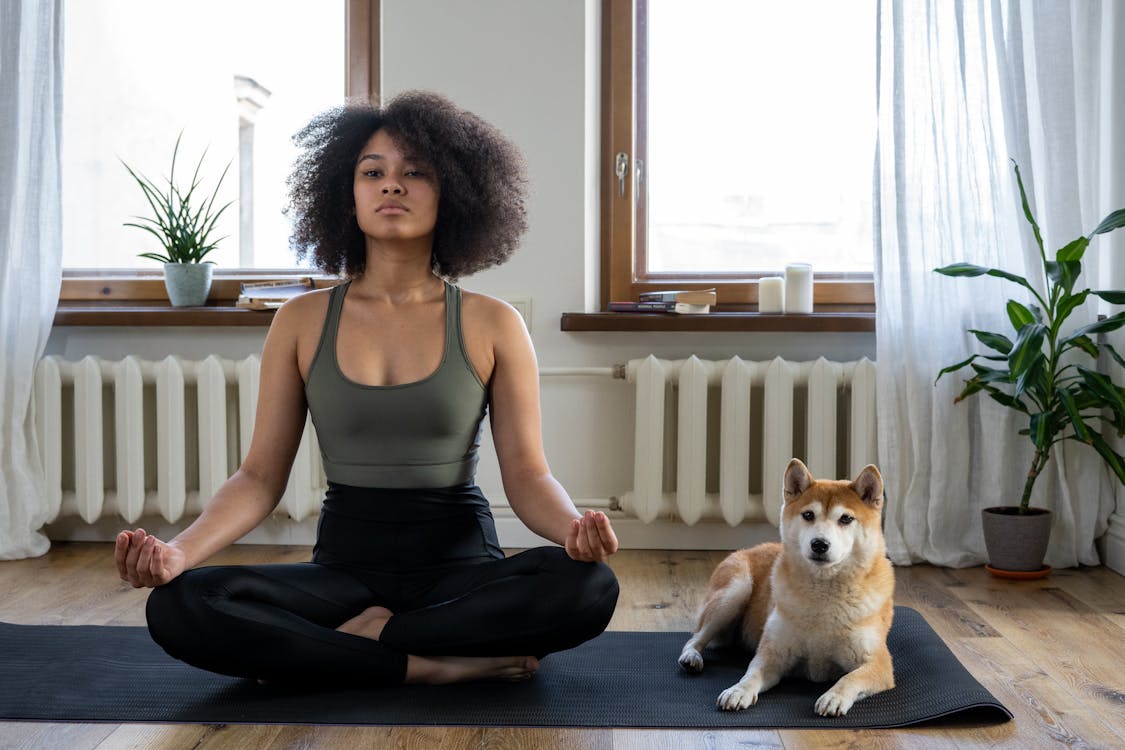 ---
Basic Gifts for Yoga Lovers.
Yoga Pants.
For any yoga lover, the key to good practice is the comfort of the clothing. You'll hear it in various classes, and online videos; Get into something comfortable, and let's get started.
I have about ten different pairs of yoga pants. They tend to be my everyday living attire whether or not I'm doing yoga! They're stretchy, comfortable, and great when I'm having a bad body image day.
I came across a number of yoga pants on Amazon quite early on in my yoga journey, and have since bought a few pairs from the same seller. They're an excellent fit, stretchy, and have various quirky designs! Later on in my journey, I was introduced to other sellers such as Sugar Pockets. All the comfort of yoga pants, with pockets? Yes please, I'll have 10!
Yoga pants don't always have to be skin tight, they can also be 'floaty' and allow the air around your legs. I have a few pairs of lovely, more bohemian pants to practice in.
Yoga Mat.
Although you can do yoga without a mat, any yoga lover will tell you that it's better to use one to encourage good wrist support. How technical of us, right? Truth be told I've done yoga without a mat (on vacation, wouldn't recommend it) and I certainly felt the difference on my weak wrists and forearms.
My first mat was from Home Bargains. It served me well for about a year or so of on-and-off yoga, and then six months completely on. It wasn't until I upgraded to a Bionix yoga mat that I really felt the difference. This mat was not only easier on my joints but also didn't slip as much on the tiled and wooden floors.
If you're not quite in the market for an expensive mat, I get it. If you're only starting out with yoga and don't want to commit then I suggest using a towel to reduce the tension on your forearms and wrists. Equally, you can purchase a cheaper mat from your local store or from Amazon where they go for as little as £3.99.
What yoga mat is complete without a suitable yoga bag? None, that's the answer.
Personally speaking, I love this bag from Elenture. It not only fits my yoga mat but it can also double as an overnight bag if I'm travelling. I have the blue elephant bag just for reference.
Yoga Blocks.
They might not seem essential to new yogis, but after a while, they're a necessity. Yoga lovers everywhere will tell you that they never knew they needed blocks until they realised the importance of manipulating certain poses.
Those yogis that get themselves into weird and wonderful shapes didn't do so overnight. It took practice and over time the body adjusted. Using blocks is an easy way to help your body gradually learn to adjust to the pose.
You can use alternatives if you have them handy. I personally didn't and often resorted to piles of books which was both inconvenient and unsteady.
The first set of yoga blocks I got were from VLFit. They're simple, come in different colours and cost only £7.99 for two.
Yoga-inspired cards!
A few weeks ago I came across 'Yoga Cards' to help me discover and try new poses! Beforehand, I was mostly sticking to the same routines, and following Yoga through youtube videos. While this was a great way to ensure I got at least ten minutes of practice a day, it did get boring. But using yoga cards means I can add so variety to my everyday practice! Some are easier than others, but it means I can build on what I'm already good at. And if I'm not great, I can continue to work on it at my own pace!
While these aren't the exact cards I'm using, they're very similar! Or this cheaper alternative.
Socks.
Hear me out on this one. Yes, you can wear regular old socks to practice, but you might need something with more grip if you're on a tile or hardwood floor. Or if you're attending your local studio. I currently have both a black and blue pair which I wear even for simply moving around the house. These socks aren't the exact pair I have, but a cheaper alternative!
Quirky yoga-themed gifts!
While not designed to boost your yoga practice, these are certainly a win for any yoga lover. These cute gifts all follow the same yoga theme! My personal favourite is the 'yoga-cats' for your plant pots! Afterall, what better animal is there to inspire anything yoga-themed but cats?
There are countless yoga-themed gifts out there! Including these three little flamingos in various poses, and this straight-to-the-point tote bag.
---
What other yoga gifts can you think of?
Are there any yoga basics you would've added? I would also love to hear about some of your pieces of yoga equipment in the comments, or across any of my socials.