CLOSED FOR THE FORESEEABLE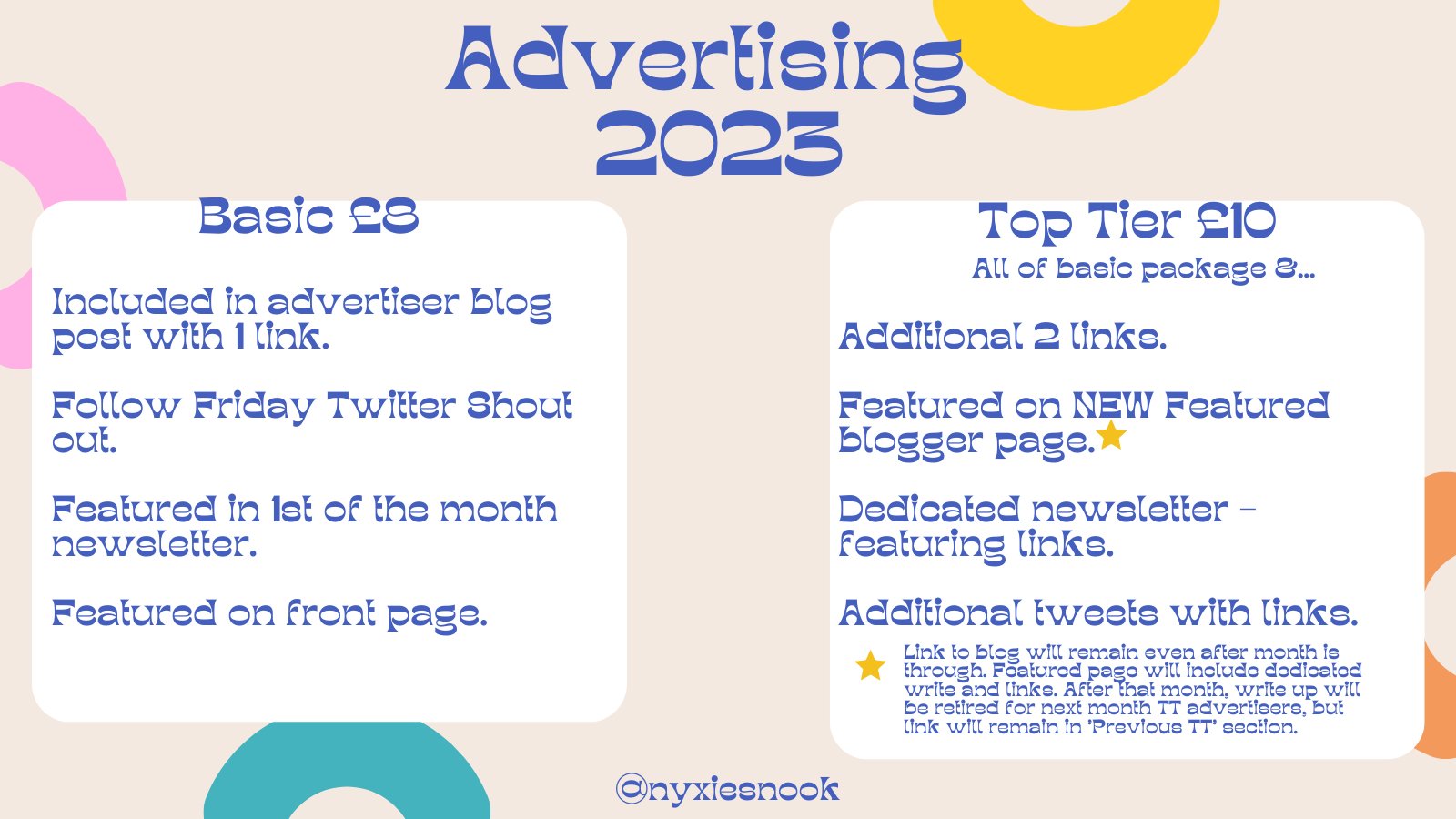 Going into 2023, I'm offering two new advertising tiers. As my advertising was so popular in 2021 & 2022, I decided to fine-tune some details. For basic advertisers, there will be a fee of £8 and for top-tier advertisers, this will be £10.
Basic packages include the following.
Blog, alongside one additional link, included in a monthly 'advertisers' round-up post. This will also include socials if you so wish.
A shout-out every Friday of the month on Twitter.
Featured in the first newsletter of the month alongside other basic and top-tier advertisers.
Featured on the front page of the site throughout the month.
All links will be Do-Follow & will remain on the website.
Top Tier packages include the following.
All of the basic package benefits.
Two additional blog post links chosen by you to be featured on the 'featured' page. These will also be used on Twitter throughout the month.
Featured on the NEW featured blogger page. Here there will be more information about you and your blog/what you offer. You also have the opportunity to provide information on any additional blog/service links that you're particularly proud of. This will be previously discussed via email-DM. Please note: Links to your blog/service, alongside additional links, will remain on the featured page even into the following months. However, your write-up will be retired until you choose to go top tier again to make way for other top tier members.
A dedicated newsletter about you/your brand to go out to my newsletter subscribers!
Additional tweets throughout the month. These will be about you and your submitted blog posts/services.
If you have any additional questions, I'm always happy to answer them!
Not sure? Here are some reviews from my previous advertisers!
"I just wanted to let you know that you are one of the best bloggers I have advertised with! All the tweets & Instagram posts were great & I did get some views from your blog." From Karaleecupcake.
"We have previously advertised with Nyxie in 2021 for the three months. Booking was extremely easy and Nyxie was very helpful with the whole process. When it comes to the promotion received, you can expect to see your content pushed to her audience and the link you gain through advertising is very important for your DA and PA scores. We are looking at booking again with Nyxie in the near future as, even though we already have a backlink through her website, the promotion she did for our content was very helpful and important to us." From The Grumpy Olive.
"There are so many reasons I enjoy advertising with Nyxie! On a personal level, she's an awesome person and professionally you're reliable and it's nice to work with you. I also appreciate the mental health topics and the honesty to discuss difficult topics. I really like that Nyxie highlights eating disorders and body acceptance as this was something I struggled with for many years. Finally, I like being associated with Nyxie's blog and the people who read it." From Andrea Hunt.
"It can be difficult finding bloggers to advertise with who have a DA above 25. With Chloe's blog, I'm able to do just that. Links from a higher DA website are always going to be beneficial, but the added social promotion, not to mention how easy Chloe is to work with is amazing. I've advertised with Chloe a few times now and will continue to do so." From Clair Mac.