Has yoga fallen out of your daily routine? Are you in need of a gentle push towards the mat? Me too, honey.
In the last few months since returning from furlough, I've fallen away from the mat. My daily routine has become anything but routine! Consequently, I haven't had a proper yoga session in months. Yes! You read correctly, months! While I still stretch and practice my breathing, I haven't had the energy or patience to carry out a twenty-minute practice. 
"In the beginning, yoga gave me respite from the world. But now, it feels like a chore."
With all the extra time at home last year, I was enjoying longer practices. But it soon became monotonous. Like many things post-COVID, it felt like every day was exactly the same. Instead of maintaining healthy habits, I soon took to binge-watching Netflix and watching the clock tick by. And, don't get me wrong, there's nothing wrong with that. But too much of a good thing is always detrimental, and my relaxation soon became self-soothing.
While I've been trying to work yoga back into my regular routine, it's not exactly easy. If you're like me and work irregular days of the week, then you'll know how difficult it is to establish a normal routine. Throw freelance work into the mix and it can seem like a monumental task to establish anything close to 'normal.'
But there are things we can do to set aside time every day for yoga or meditation. While it might seem like 'just one more thing you have to do.' I assure you that even ten minutes of dedicated mat time will help build your patience and may even free up space in your mind.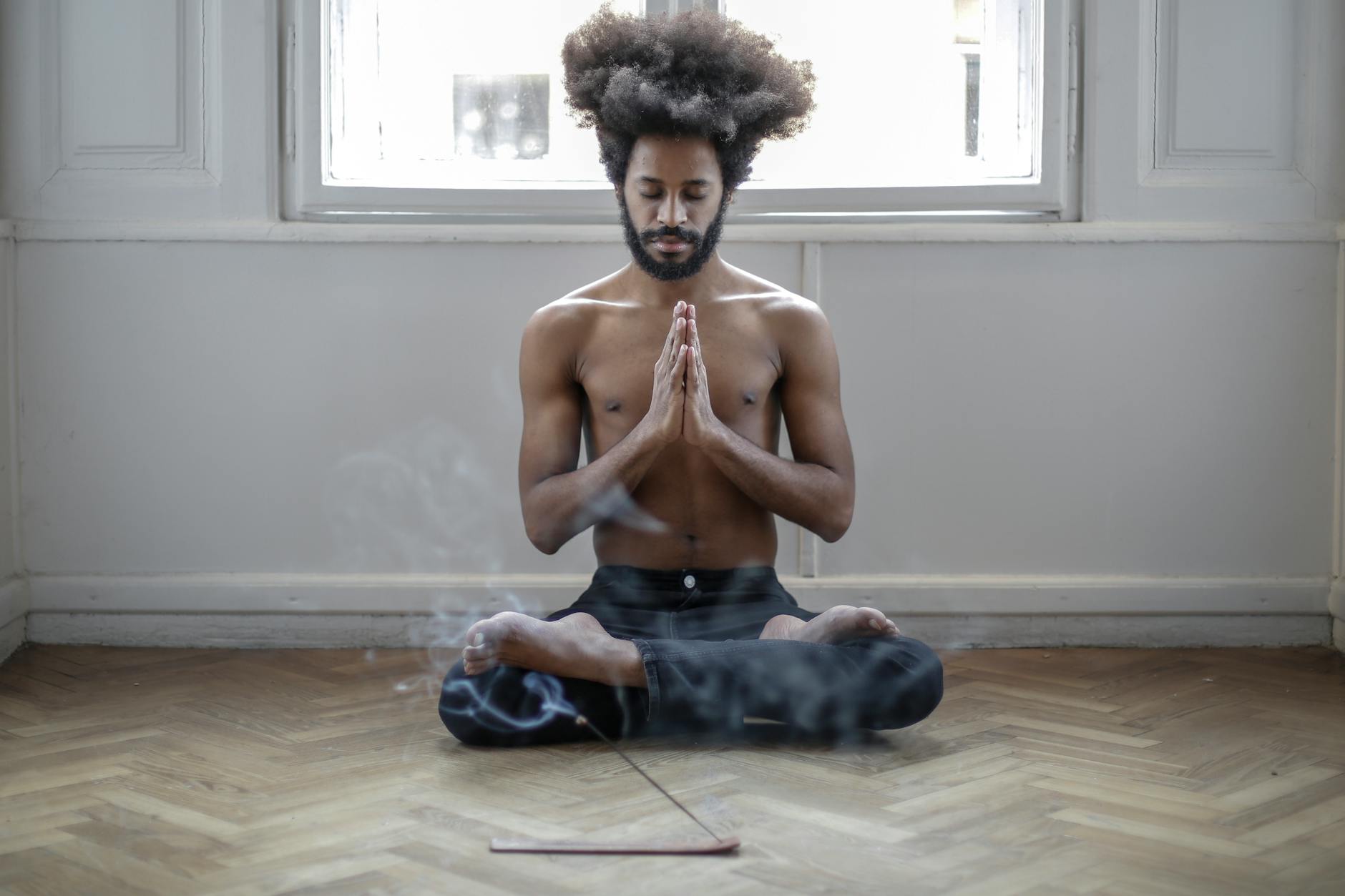 ---

5 Simple Ways to include yoga in your daily routine.
Leave your mat out. 
The old saying goes that when it's out of sight, it's out of mind. Equally, when your yoga mat is neatly stored away, it's easy to forget about your practice. Especially if we're only starting out or struggling to keep the habit. If you can, it's best to leave out your mat to remind yourself to practice, even if it's just for ten minutes. There are many styles and colours to choose from, so pick something that suits the interior of your home for maximum benefit.
Leaving your mat out is great if you practice in the morning, but it's equally as good if you practice after work. Walking in and seeing your mat out can help remind you to get in an easy ten minutes before dinner.
Create a dedicated space.
There's nothing worse than trying to relax among the clutter. I find that it's impossible to settle down for yoga if I'm in a messy space. That's why I always make sure to keep my yoga area clear of general clutter. I practice in my living room where there's plenty of room to stretch out, and things are easily manoeuvred to allow for extra movement. I don't have a designated space with chakra candles and incense burning. But I make do with what I do have by ensuring it's mostly clutter-free and ready for practice when the time comes.
Follow YouTube creators or online classes with ready-made material. 
There's nothing wrong with needing a little extra motivation. I find it almost impossible to practice alone, that's why I always follow Yoga with Adriene. Not only does she provide excellent guidance on the various asanas, but she's also encouraging. The best thing about using Youtube? It's completely free!
If you still find that you need help, there are plenty of online classes available for a fee. In the absence of open spaces, there are Zoom classes available. Search your local area or even join in long distance.
Are you a complete beginner? Here are some of the best poses to get you started with yoga from The Sporting Blog.
Wear yoga-friendly pyjamas or house gear. 
If yoga in the morning is your thing, make sure you wear yoga-friendly PJs to bed. But if, like me, you have to practice at varying times, it's best to wear comfy, flowing clothing around the house. Why? Being appropriately dressed for yoga means you're more likely to take it to the mat. Sometimes the act of getting changed into gym leggings and a loose top can put us off exercising. But with home yoga, we don't need to get dressed up or travel. We can simply escape to the mat in our designated area, with no fuss, and low effort.
Even 10 minutes is better than nothing.
A ten-minute meditation session or a quick stretch is better than nothing at all. Do you have a spare minute before bed? Instead of screen time, why not try some slow-paced yoga?
---
How have you added yoga back into your daily routine?
I'd love to hear some of your suggestions on how you can easily add yoga, or any exercise, to your daily routine. I know we've all go very different time frames and routines. But maybe there's some simple way you know of that could make self-care, yoga and meditation more inclusive and important.
Also, be sure to check out my other articles on yoga.