[AD] This Post Has Been Written In Collaboration With Plays.org For Further Information On Check Out The Legal Page.
It should be no secret by now that I love video games. And I'm very lucky to have a husband who also loves playing games. So, we're always on the lookout for date ideas for gamers! But how exactly can gaming be incorporated into the dating world? Is it all online or can you game together in a physical space?
Fortunately, I've done the research for you! Whether you're in a mutual gaming relationship, or you've signed met someone on Tinder, there are an abundance of ways to enjoy gaming together.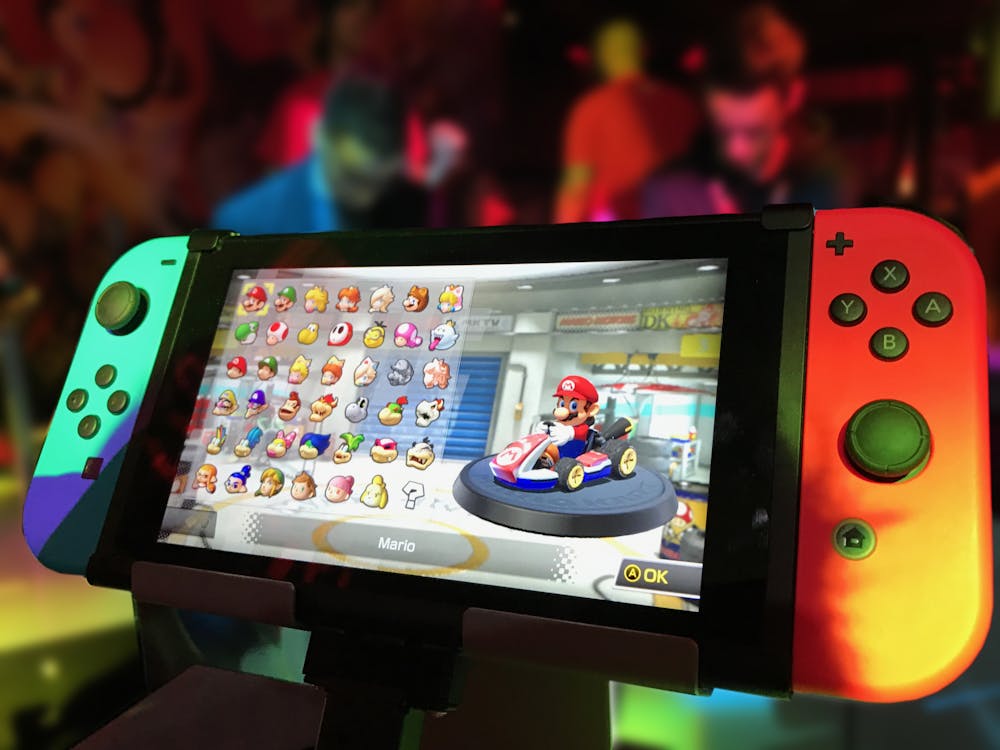 ---
Five Fantastic Date Ideas for Gamers.
Visit a virtual reality hut!
One of the most modern date ideas for gamers that I've come across is that of a virtual reality hut or room. My husband and I first came across these when visiting Krakow a few years ago, and were immediately hooked! Lucky for us a virtual reality place opened up a little closer to home the following year in Lisburn. After dinner, we would often book our spot in a reality pod instead of seeing a movie. It quickly became a frequent hang-out for us pre-COVID. But when the pandemic was announced and my husband was furloughed, he immediately booked himself one of the latest Oculus models.
When it rained or a walk wasn't possible, we played Beatsaber instead. We watched each other play hidden quest games and even spent time shooting zombies. All from our living room! There are also various co-op games, and if you have another headset you could easily spend hours lost in the latest zombie thriller. Better yet, there are models which connect your gaming PC, and allow you to play top-of-the-range games straight from Steam!
If you get the opportunity to visit such a place post-lockdown, I couldn't recommend the magic of VR more for the perfect gamer date.
Multiplayer games.
My husband and I started our relationship as gamers. We may have met at the pub, but we spent our nights gaming together. This was often through World of Warcraft, Minecraft, or League of Legends. And while these are still excellent co-op games, we've since settled on Mario Cart and Smash Brothers.
Now our date nights usually include dinner, a few bottles of beer and loudly protesting the other's red shell on Rainbow Road. If you're lacking a console or PC, you can still play co-op games on phones and tablets. Even if they're fairly simple, you can find some wonderful hidden gems in the app store such as Bad Apples and Among Us.
Check out this post about the wonderful world of Animal Crossing & how it saved lockdown.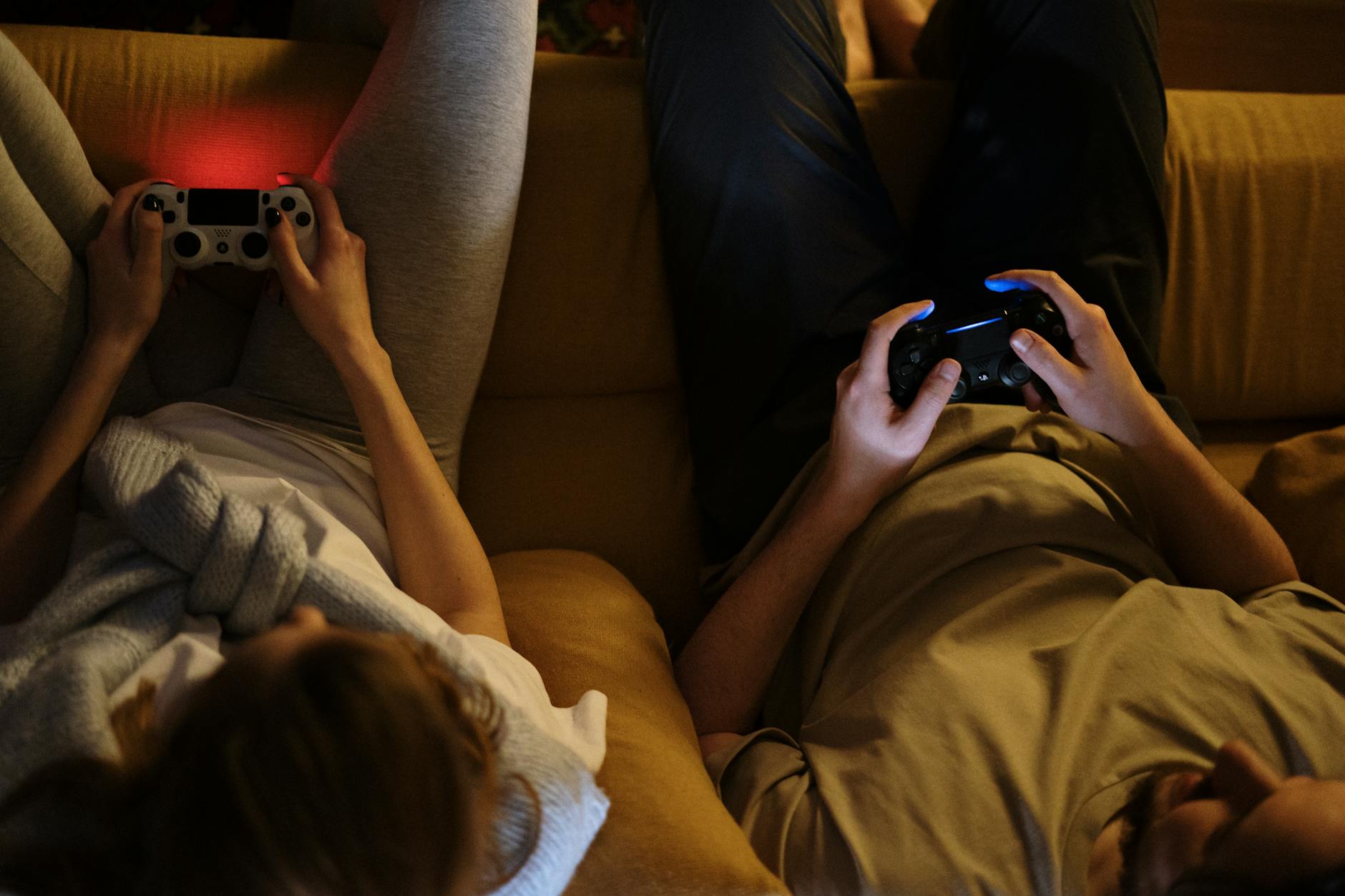 Check out some old-fashioned, browser-based games!
My husband and I both grew up during the time when flash games ruled the internet. I remember spending hours on my home computer playing various games across multiple websites that have long since disappeared. And with advancements in technology, you can now play old console games in your browser! There's nothing we enjoy more than sitting down to play some low-stakes browser games while nursing a glass of wine and watching a TV show. It's one of the most relaxing evenings I can think of!
I recently discovered Plays.org which hosts a variety of browser-based games. From arcade favourites like Tetra Blocks to old classics like Mahjong, there is something for everyone to enjoy! On a recent trip, Ryan and I spent an evening playing through the board game section. Four in a row is an old favourite of ours, and we were able to play against each other!
Go offline and try some board games.
If you're still feeling competitive but don't want to set up the Switch or PC, then why not crack out the old board games? There are so many great two-player games to play together including Exploding Kittens and Monopoly. You can also find some amazing true crime and escape room games. We've been playing 'The Abandoned Cabin" by Thames & Kosmos Exit. Tabletop 'detective' games are fairly new to me. I'd never heard of them until late last year, but since then I've been hooked. And I've managed to rope Ryan into them too.
Of course, there are also those more 'daring games.' The ones for adults only such as Monogamy and strip poker. We are stuck at home, after all.
Looking for some ideas? Check out A Thrifty Gamer!
Escape rooms.
I can't stress how fun these rooms can be. For those of you who might not know what an escape room is, it's a real-world puzzle. Each of them is different and often revolves around a theme. Some can be sci-fi, while others may simulate a jail cell. You may only be locked into one room or multiple rooms. There are so many out there so it's best to research what's available to you locally.
While these places may not be open at the moment, they should be within the next few weeks. Having visited one for my birthday during the pandemic, I was hyper-aware of the hygiene policies. However, I needn't have worried. The escape room we visited was extremely safe and followed a strict social distancing and hygiene policy. All touchpoints are wiped down and appointment times are staggered.
---
But gamer couples also need to remember to take time away from gaming.
While it's tempting to spend all your time either playing solo or co-op games, sometimes we need to cut our game time down. Especially when there's nothing else to do but indulge in-game time. Take the time to cook dinner together without the presents of screens, or even watch a movie or TV show. Maybe you want to get out of the house? If the weather's kind and you're feeling fine, pack yourself a picnic, wrap up warm, and take a break from all distractions. As much as I love playing games with my husband, it's always nice to switch off and just talk.
What about you? Do you have any additional date ideas for gamers that I haven't mentioned?