[AD] This Post Has Been Written In Collaboration With Mortgage Calculator For Further Information On Check Out The Legal Page.
Let's face it, it's not easy to talk about money with other adults, let alone teach kids about money. We pay so much digitally these days that the feeling of a ten-pound note in hand is lost on many youngsters. And with that, the concept of money and savings accounts may have all but disappeared from young minds. But, without a doubt, kids will always pay attention to money when it suits them. Such as in the supermarket sweet aisle or the local toy shop.
As the adult in their life, it's your responsibility to help teach them about money. Instilling healthy financial habits from a young age is entirely possible and, in the current economic climate, highly encouraged. So many things have changed in regard to finances, interest rates, mortgages, and even how we go about borrowing money. And, no doubt, the generation coming behind us will have even more to navigate. So why not make it easier to grasp by passing on your own knowledge earlier in life?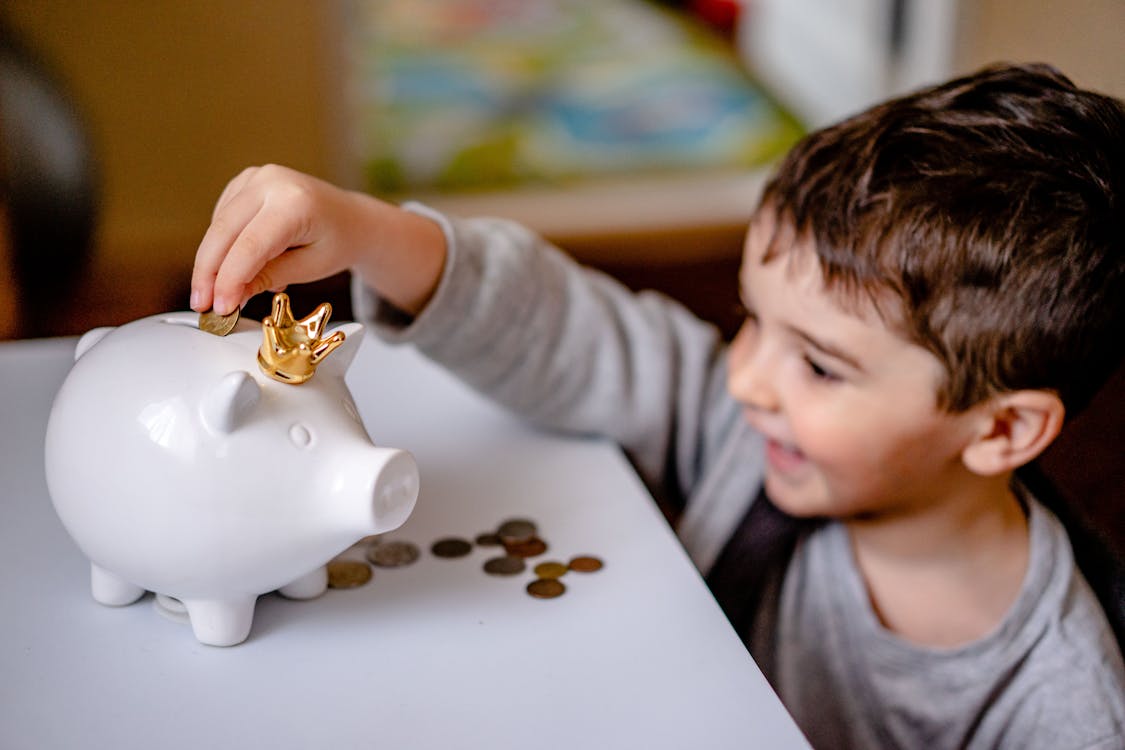 ---
5 Ways to teach kids about money.
Set up a savings jar.
Growing up my sister and I saved any money we had using our piggy banks. They were from our local bank and shaped like hippos. Not only were they fun, but it was a great way to teach us about saving. But, while whimsical money banks are a great concept, nothing beats a clear glass or plastic jar! Not only do you have the joy of being able to see your money grow, but it can be recycled from other household items such as sauce jars or glass bottles.
But why stop there? With recycled jars or pots, you can even encourage your little ones to decorate them in their own, personal styles. They can use stickers, gift wrapping, or even ceramic paints to make their savings account eye-catching!
Even as adults my husband and I have two or three 'change' jars where we put loose coins. We've been using an old glass mug to put coppers and other useless coins in for the last few years. While this may never equate to much, it's always handy when you need a pound for the trolleys or money for the parking meter.
Make it fun!
What better way is there to grab a child's attention than to make a game of it? There are various websites out there that offer free money games to help teach your kids about saving, spending, and everything in between. Mortgage Calculator is just one such site. They have a variety of games to choose from and I've thoroughly enjoyed playing through most of them to suss out the best ones.
My personal favourite is a simple clicker game known as Idle Money Tree. It's one of the easier games, requiring minimal concentration to click and collect falling money bags. Other games are more complex such as Cash Back, which requires you to give change back to customers using the correct coins and bills. This is something I deal with every day as a retail worker, so needless to say it's not something I want to do at home.
If you want to help your kids advance their understanding of money and math, be sure to set them up on Mortgage Calculator. They've several different genres, all of which are educational. So, even if math and money aren't of interest to them, there'll always be something else to choose from.
Let your kids in on how you spend your money and lead by example!
Kids are watching everything we do all the time. From how we treat people to how we spend, you can bet they're storing it all in their little brains. If you're constantly using plastic to pay for everything, they'll pick up on it. Or if you and your partner are frequently arguing about money, they'll notice that too. But, if you make a conscious effort to set a good example for them, they're more likely to develop good, healthy habits.
That includes how they interact with and treat money.
Teach them the value of money.
A good way to do this would be, for example, if your child wanted to buy themselves a magazine from the corner shop. Explain how much it costs and either help them count out the money from their jar or have them do it themselves. This way they can see exactly how much they're removing from their own money and are able to physically hold it in their hands.
When you take them to the shops, encourage them to physically hand over the money to the cashier. Don't opt to use your debit card in its sted! This defeats the purpose of the exercise.
Introduce pocket money for simple chores.
My sister and I grew up doing weekly chores which often resulted in pocket money. It was a great way to not only teach us the most basic of household tasks, but also that money has to be earned. We don't just get it for free (unless it's a special occasion such as a birthday or Christmas).
You can start from primary school age, but be realistic. You're not going to ask a six-year-old to pick up the hoover and clean the living room, are you? Instead, ask little ones to pick up their toys, help set the table for dinner, or even unpack the groceries. As they get older these tasks can become more advanced such as cleaning the dishes, making their bed, washing the car, or even mowing the grass.
While it may be tempting, don't use money as a bride for children to study or do homework. This is known as extrinsic motivation. We as humans should learn because we want to learn, and not because we're being paid to do so. This encourages learning for the sake of bettering themselves, rather than for financial gain.
---
Have you any other tips about how to teach kids about money?