What is work-life balance? And how do you know if you're struggling?
When I first entered the workforce I wasn't aware that work-life balance was a thing. Of course, I assumed that work wasn't meant to be your whole world, but it was never explicitly stated. For some of you, it may go without saying but for me, work and university were always top of my priority list. Health, social life, downtime? All of that could wait. First I needed to get my grades and make that money, then I'd be happy. Right?
Having a good work-life balance means that you give equal priority to your professional and personal life. It means having time to go to work and spend time with your family afterward without the presence of your job.
How many of you can say that you have a healthy work-life balance? Do you use your vacation days? Are your emails shut outside working hours? Do you work on your days off or lie awake thinking about the office?
---
10 Signs Of Poor Work-life Balance.
One. You're always tired.
I'm a self-confessed champion when it comes to speaking out about stress and burnout. I could talk for hours about the negative impacts on our physical, mental, and emotional health. But I'll keep this short.
Too much stress causes significant physical and mental illnesses. It lowers the immune system and leaves us more open to frequent bouts of sickness. Even if you haven't been coming down with cold after cold, you may still feel extremely tired all the time. No matter how much sleep you get or caffeine you consume, you still can't seem to get the buzz of energy you desperately need. When we're overworked and feeling stressed, it causes both our muscles and brains to go into overdrive. Your whole body might ache, you might feel sick, you might suffer from frequent headaches and you might even feel palpitations. These are among a long list of telltale signs of a body and mind being overclocked far beyond its capabilities.
Two. You ALWAYS do more than necessary.
Don't get me wrong, it's good to be helpful. Putting in an extra hour here or there is completely fine. If you're getting paid for your time and it's not a regular occurrence, it can even feel rewarding to clock in outside your usual hours. But when you're doing overtime on daily basis, going in on your days off, or frequently being asked to work beyond your pay grade then it's time to re-evaluate. It's good to be needed and it's good to help out others in a sticky situation, but you can't eat, sleep and breathe your job. It just doesn't work that way! Employers are demanding more and more from their employees in recent years. More work in less time and with half the manpower.
Between commute time, working, and overtime, my partner was barely ever at home. Before COVID-19 he was the most overworked he'd ever been and reaching his breaking point. But after a few weeks on furlough, he realised that his work-life balance was completely out of wack! A manager or not, nothing is worth risking your health over. It may keep money in the bank, but what good is it if you don't have the time to enjoy it?
Three. You're constantly bringing your work home.
Much like spending too much time at work, a large majority of us bring our work home with us. Whether it's always keeping the work phone on loud, reading emails on vacation, or fixing up spreadsheets at nine pm, it's never a good thing to bring work home. As someone who works from home on a daily basis, I found it very difficult to let go prior to COVID-19. It was only in March that I set myself a cut-off point, one to which I stick very strictly to. I take frequent afternoons off when work allows and sometimes I don't write for a week. And you know what? I feel so much better!
But even when I was out working full time I found myself scrolling through emails on a Saturday and checking my work phone after five. My old ringtone still haunts me to this day which is a sure sign it should never have happened in the first place.
Four. You've no time for the things you enjoy most.
Having a healthy work-life balance is all about being able to go about your day job while also having free time for the activities that you enjoy. Without that much-needed 'downtime', we're nothing more than slaves to the machine.
When was the last time you sat down to play a video game that you really enjoy? Or took a trip away with your partner or friend? Spending too much time at work or thinking about work pulls us away from the other, more enjoyable things in life. Even if you enjoy your job, there's always the need for some time off.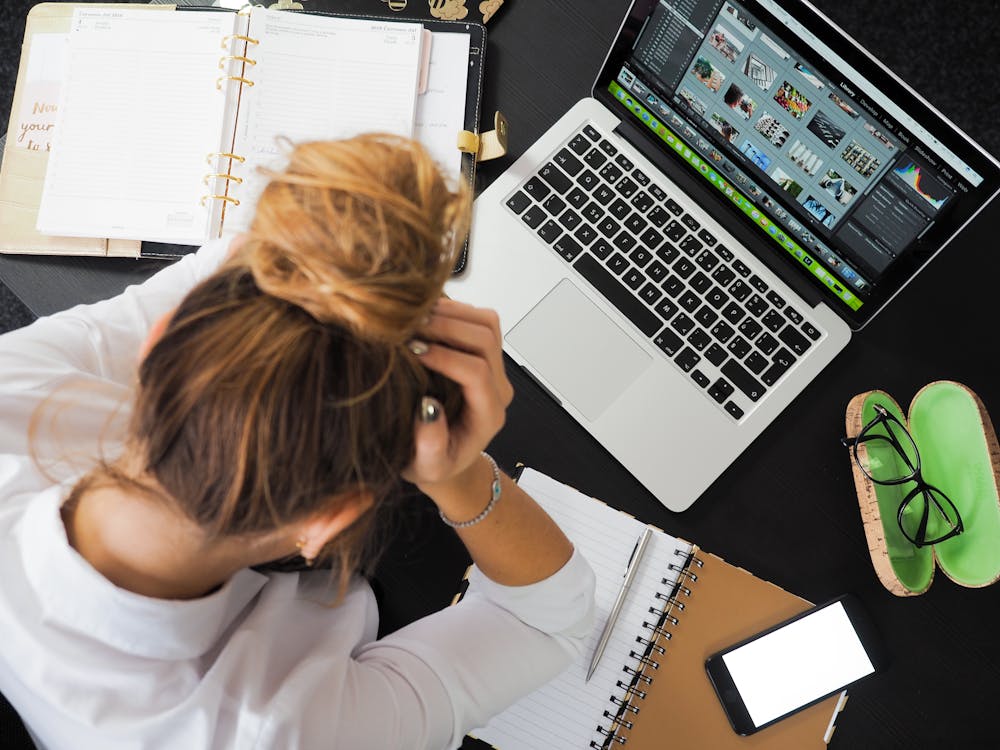 Five. You're struggling with your relationships.
If you're spending too much time at work mentally and physically, it's bound to take a toll on your personal relationships. Not only do you have a lack of time to spend with your significant other, but there's possibly a lack of communication too. If there's no time for your loved ones then it's time to check your priorities. I know now more than ever that the time I spent worrying about work would have been better suited to seeing my grandparents or working on my relationship with my partner.
You can fit in some personal time easily by eating dinner together, going out for a walk with your bestie mate, or even calling your mum more often. Not only does it act as a perfect way to build on forgotten relationships, but it can also be a great stress reliever.
Six. You're feeling unsure of what to prioritise.
Don't know what to get done first? Always end the day with more things on your to-do list than off? When we take on too much in regard to work, home, and general life, things can grow out of control very quickly. This is where the word 'NO' becomes your best friend. Stop taking on more than you can handle just please the boss or another colleague. If you're a manager or supervisor, learn to delicate tasks for the appropriate people. You can't do everything and by saying 'yes' to every task you're knocking down boundaries. A wise woman once said to me 'if you say yes to everything all the time, then people won't expect anything different. So they'll always assume you'll do it.'
When it comes to to-do lists, it's important to keep no more than 10 things on your list at any one time. I would even go as far as to say 10 is too much, but everyone works differently.
Seven. You find yourself losing your patience easily.
Being overwhelmed all the time can really take a toll on our tolerance levels. I used to blow up at every little thing that would go wrong in life. From the tone of someone's voice to being stuck in traffic, I would lose my cool at almost anything. In hindsight, it was all a sign of being extremely stressed and burnt out both at work and in my personal life.
If you're feeling the same it might be time to take a step back from your desk, take a deep breath and think about what needs to change. Are you working too many hours? What about your workload? How does your inbox look in comparison to your outbox? When was the last time you truly took a break?
Eight. You almost never use your sick leave or holidays.
It's great that you're dedicated to your work but you can't let everything else take a back seat. I'm so pleased that several workplaces have prompted me to take my holidays as I tend to be a person who doesn't bother. However, I'm aware that most would gladly have you work all the hours that God sends you without so much as a hint at the time owed.
Use your time off to recuperate and when you're sick, take the time you need to rest. If you've made feel guilty about that then it's more of a reflection on who you work with rather than on you as a person, so don't take it personally.
Nine. You can't stop thinking about work.
Do you find yourself relaxing in the bath or on a sunny beach in Spain (pre-COVID) but your mind is still in the office? Are you constantly checking emails on your days off or thinking about the next big meeting? Even when I was at home I couldn't stop thinking about work. It's not a healthy place to be and it can really take a toll on your stress levels, even when you're not actually at work.
Although it's not as easy as 'just stop thinking about it there are some things you can do. Switch your work phone off, log out of your emails and maybe verbally make people aware of your boundaries. It's not shameful nor is it showing a lack of commitment to insist on keeping work separate from your home life.
Ten. Your health is deteriorating.
All of this rounded into one neat package can manifest in many different ways. And the truth of the matter is that the more we ignore our own health in favour of our work life, the more likely we are to suffer from long-term health complications.
---
Take back your life. Stop living for the weekend. Don't work beyond your physical and mental capabilities. And turn off your emails, for goodness sake!
Learn more about work-life balance at Working Families.