Still working at home? Or working at home on a permanent basis? It's time to start setting up your home office.
[Collaborative Post] The below post has been sponsored. For more information on sponsored posts, please see the disclaimer page.
As the pandemic eases across the world many of us are left wondering what now? As a part time retail worker, my life continues as normal. I get up, I go to work with my mask on and I watch as hundreds if not thousands of customers come through our doors. Some wearing masks, some not, some coughing, some vaxxed and some blatantly ignoring all precautions. It's been the same since day one and I'm fairly used to it.
But if you were among the thousands of people asked to work from home, it could be a case of do I stay or do I return? Personally, my choice would be an obvious one. Who doesn't love their home comforts? The ability to use your own bathroom, drink your own hot coffee and avoid small talk with that one coworker you simply can't stand? It's a no brainer! But, as a childless millennial I often forget the presence of homework and young children. And, of course, the absence of a comfortable office space.
Are you thinking of buying a new home to make room?
House prices have skyrocketed in the last few years. Whether you're downgrading to save on the mortgage or upgrading for that new office space, finding what works for you can be overwhelming.
Apart from all the linguistics such as location or external parking, the mortgage repayment is possibly the most daunting. When my husband and I were buying our home back in twenty eighteen we were able to calculate our repayment to give us an idea of our future. We were both clueless about mortgages, so if we can use it, you can too! While interest rate and fixed terms are important factors to consider, the real questions are how much will I pay a month and what is the total estimated repayment! 
Using a quick and simple repayment calculator can help separate what you can afford from what you can't. Be realistic about it too. There's no point in lying to yourself about what you can pay back per month if, in reality, you'll be left to struggle. 
With that being said, perhaps an upgrade isn't possible right now. And that's okay! We're all feeling the pinch. If that's the case, it's time to improvise, adapt and overcome!
Want to up your office game? Check out this post to learn more about adding a Flexispot desk bike to your life!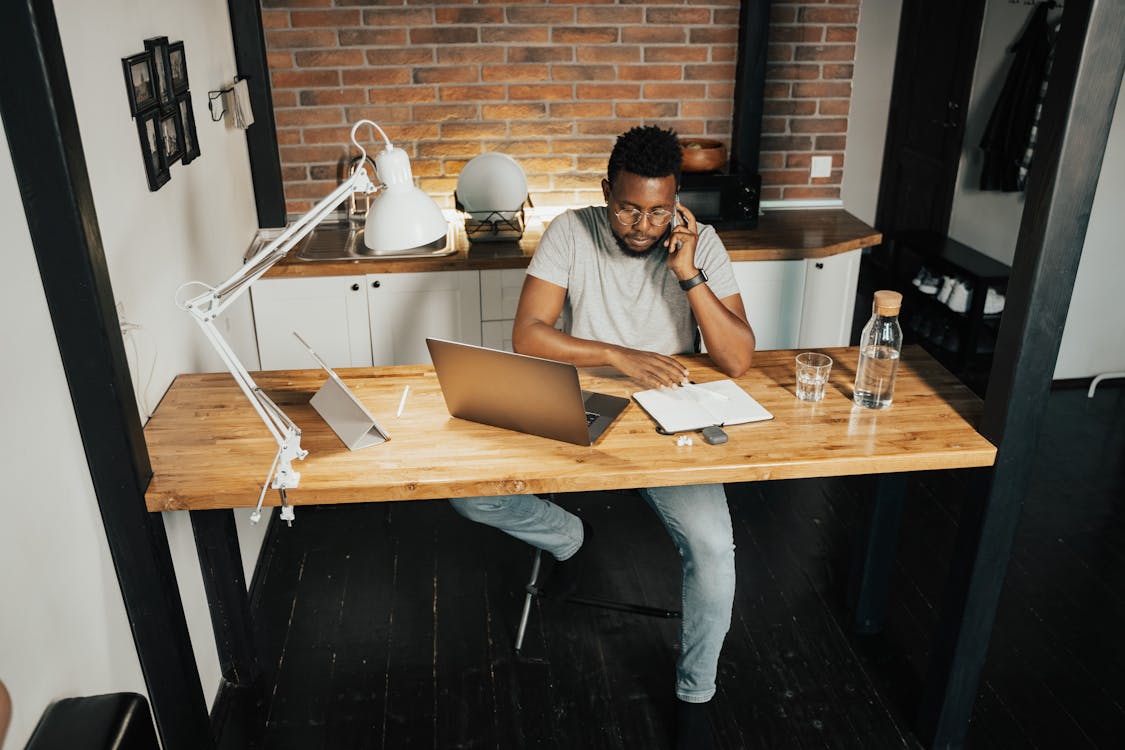 ---
Five Major Things to Consider When Setting up your home office.
While I can't do anything about the various distractions, I can give you some advice. Using a mixture of personal experience, and my health and safety knowledge, here are a few things to consider when setting up your home office.
Ergonomics is possibly the most important thing. 
Comfort when working from home should be our number one priority. Not only does it increases our productivity, but also prevents long term repetitive strain injuries. Let's face reality though, not everyone has the luxury of their very own room to work in. But even if you don't have a dedicated home office, the correct desk and enough leg room should suffice.
When it comes to ergonomics of your work space, here are a few guidelines to follow.
Make sure that you're working from a desk that has adequate legroom below it. This ensures that you are able to sit close to your laptop or computer without unnecessary stretching. While it can be tempting to sit cross legged, try to keep your feet firmly on the ground. Failing that, you can get yourself a footrest.
If possible use a separate mouse and keyboard with laptops. The comfort of a mouse over a track pad is, in my opinion, no competition.
The top of your laptop should be level with your eyes. This means you may have to prop it up so that you're not looking down at it. If this is the case there are many options out there for desk extensions and even raisers with built in fans to keep your laptop cool.
On that note, make sure all computers, laptops and accompanying technology are directly in front of you. This means you should not be overextending your neck to look up, down, or in either direction. Your keyboard and mouse should also be directly in front. Finally, there should be adequate room for your forearms to rest on the desk with ease.
Your chair should ideally be adjustable but, again, we don't all have that luxury. If you do have an adjustable chair make sure it's at the correct height for you. But if not, you can use a rolled up towel for lower back support and a cushion to prop you higher if necessary.
Posture is important! Take it from someone with chronically bad posture and, as a result, suffers from upper back pain. If sitting, ensure that the small of your back is supported using the method mentioned above, or a back support. Your shoulders should be relaxed but not slumped forward. Make sure your legs are comfortable and, as stated, your feet should be on the ground or a footrest.
For an idea of how to set up your home office desk, have a look at this image from Verywell Health.
It's all about your natural lighting.
So you've done it. You've picked the spot for setting up your home office. Great! But have you put much thought into the lighting?
Lighting has such an important role to play in our overall health and well being. Yet its importance is often overlooked and taken for granted when we're furnishing our homes or offices. We simply pick something that fits in with the aesthetic and hope for the best. However, it's only as the dark nights start to creep in that we really begin to see how important the correct lighting really is. 
The best way to allow more natural lighting into your home is by introducing more windows. Although this option isn't always possible. So, the second-best thing we can do is introduce alternative natural light sources. In this wonderful age of technology, we now have the means to purchase lamps that give off the hue of our natural light source. These can be found reasonably cheap online and even in your local home ware store!
By adding additional lighting to your home office, you're inviting more productivity and a better mood overall. Even when the stress levels are running high, additional lighting can help take the edge off.
It's also important to make sure your office is comfortable for you! Check out this post for more information on how to make your office a peaceful little paradise.
What about your internet connection?
Some of us don't take into account our home internet connection when it's a key part of working from home. While it's fine to have a substandard connection for everyday use, if dealing with frequent calls and emails, it's important that it's reliable and fast!
If you're struggling with your internet connection, be sure to check your average speed. This can be done simply by a 'check my internet speed' search on Google. From there you'll be able to understand what's happening in terms of your upload and download speed. If you're getting what you paid for, great! If not, get on the phone or online and hash it out with your provider.
But if it's simply a placement issue with your router you can fix this with an internet connection extender. That means you can work from your garden shed or even your attic and still get the same connection as you would if you were right beside that magic little box!
Organisation is key!
I've worked in an office where we housed everything but the kitchen sink. I had a box of wellingtons at my feet, DIY supplies in the cupboard, and an endless stream of paperwork. As much as I tried to keep the place organised, my attempts were futile. Looking back it only added to my increasing anxiety. And no doubt clutter will have the same impact on you too.
If you can't build out due to limited space, build up! Make use of blank walls by adding shelving, cork boards and any other storage you can think of. Try and keep clutter away from your feet, but do certainly use any space around you for storage systems and In/Out trays!
Clutter isn't always avoidable but it's possible to reduce it to a safe, workable level.
Separate your work life from your personal life as much as possible.
This doesn't mean closing your laptop and going to the living room just to sit on your phone emails. It's not about physical locations, but mental locations too. Working from home makes this especially difficult because it's all too easy to just open the laptop to 'do one more thing.' But it's ever just one!
Work-life balance has become a big issue in recent years. So many of us are running ourselves into the ground both in and out of work for companies that ultimately don't care. It's great to be attentive to your work but if it's running your down, then what's the point? You can't pour from an empty cup and that goes double to your work life.
You need to set clear ground rules when it comes to logging off for the night. Even if an email comes through after finishing time! That means being strict with yourself and focusing your full attention on your home life after closing time in the evening.
---
Have you any additional tips to consider when setting up your home office?