It's time to welcome my November Advertisers!
This is quite a long one, so I'll keep this introduction brief. The penultimate month of the year is always bittersweet and slightly hectic. At least in my house. It's the time of the year when we start thinking about the holidays, buying presents, and arrangements for the new year. For us, that means organising new and exciting adventures for our own side hustles! I've already put serious thought into a new advertising scheme for the blog, while Ryan continues to work on his own creative endeavors.
Be sure to check out the end of the post to find out more about how to become one of my advertisers in 2023!
---
Meet my November Advertisers!
Lynn Mumbling Mejia
Lynn's beautiful blog is perfect for those who want to get the latest on all things lifestyle. From the latest recipes to holiday gift guides, Lynn Mumbling Mejia has it all! I'm a big lover of DIY homeware, so you can bet that I've loved reading through all Lynn's DIY articles. If you're into spooky crafts for Halloween, it's also worth reading into Lynn's wonderful and simple hobby projects. They'll not only keep you busy, but they're also perfect for the wee ones.
Here are some of Lynn's personal favourites to highlight this November.
Claire Mac
Claire Mac is run by, you guessed it, Claire! A wonderful blog filled with mamahood, self-love, fashion, skincare and so much more! Whether you're a parent or not, Claire's blog is a safe space for you. She talks about all of the above plus much-needed aspects of self-care, self-love, and encouragement that everyone, not just mamas, needs to hear.
While Claire is a mum to two wee ones, she doesn't want that to purely define her. She is so much more than just a mother with a passion for writing, fashion, encouragement and so much more. Mums can be themselves as well as being a mother, and Claire wants to show that! You can find Claire on Twitter, Instagram, Facebook,and Pinterest.
Here are some of Claire's top picks!
Share To Inspire
I'm so pleased to see Share To Inspire joining my November advertisers! She's been with us before back at the beginning of the year, and there is nothing I love more than returning sponsers! It means I'm doing something right! Share to Inspire was created by the wonderful Ali! She's an English teacher living in Japan, with a passion for self-development. Share to Inspire was born as a way to help others grow their confidence, finances, and even their relationships.
But can we just take a moment to reflect on Ali's amazing journey to living her life in Japan!? She talks passionately about her life there, the different cultures she's experiencing, the languages she's learning and the friends she's making along the way.
Ali's site is a one-stop-shop for all things self-growth, her personal experiences of living and teaching abroad, and other tidbits of knowledge she's learned along the way.
Here are some of Ali's top picks!
Andrea Hunt
The first of my October advertisers, and a returning friend, is Andrea Hunt. If you're interested in EFT or life coaching services in the comfort of your own home, look no further than Andrea! She's a certified transformational life coach and a member of the International Coaching Federation. Andrea is also qualified in Level 2 EFT Tapping (Emotional Freedom Technique) and is a member of AEFTP (Association of Emotional Freedom Technique Professionals). She's currently working towards her EFT Masters Level 3 Certification.
If you're interested in getting in touch with Andrea, simply email her at [email protected]. Or you can book a 15-minute FREE discovery call to find out if this package is for you!
Here are a few of Andrea's top picks from her blog.
Colorado Kelly
Run by Kelly, Colorado Kelly is home to a variety of thought-provoking and informative articles. Whether you want to discover a new recipe, try some DIY, or practice self-care, Kelly has you covered! This blog is particularly focused on the busy women of the twenty-first century, and doesn't beat around the bush! I particularly enjoyed Kelly's articles on home remedies for anxiety, hair treatment, and boosting the immune system!
Here are some of Kelly's top tips!
---
Welcome our small business advertisers!
Ciara McCaffery
Ciara is the proprietor of Purple Box Consulting, an agency to help manage and achieve the goals of your business. Based in Belfast, Ciara is a dedicated freelance consultant with extensive knowledge in regard to team management.
"Employees are currently in control. The change caused by the pandemic has contributed to a world where employers are changing the way they work and recruit. With my interview coaching, I can help increase your confidence, and teach you how to showcase all that you have to offer. You'll learn how to showcase your skills, talents, and knowledge, no matter the job!"
Ciara's expertise has been very widely sought after and successful through 2022, and she's currently open to new clients to help them get the most from their careers. You can also find Ciara on Twitter and Linked In. You can also contact Ciara via her email address; [email protected].
Hello Pumpkin
I want to say a big WELCOME to Hello Pumpkin, created by Anneli. Hello Pumpkin is an up-and-coming store filled with whimsical, cute, and hopeful pieces. While it's not yet open, please make an effort to follow them on Twitter for updates!
Meet Lucifer! This little guy is a very special November Advertiser! His mum, Britt, has been a friend of mine since I first started blogging back in 2019! We've worked on various projects together, the most recent of which was Lucifer's portrait! Lucifer was adopted by Britt and John in 2021. While he appeared healthy at first, it wasn't until months later that they discovered that he had suffered injuries to both front legs. This has left him limp, and in pain on a daily basis.
Britt and John are asking for help to cover Lucifer's extensive medical bills. They've been quoted a massive $3800 per leg, not including post-op care. Poor Lucifer needs this surgery in order to live a happy, pain-free life.
If you'd like to help or find out more about Lucifer and his story, check out the website.
---
Interesting in becoming part of our advertisers?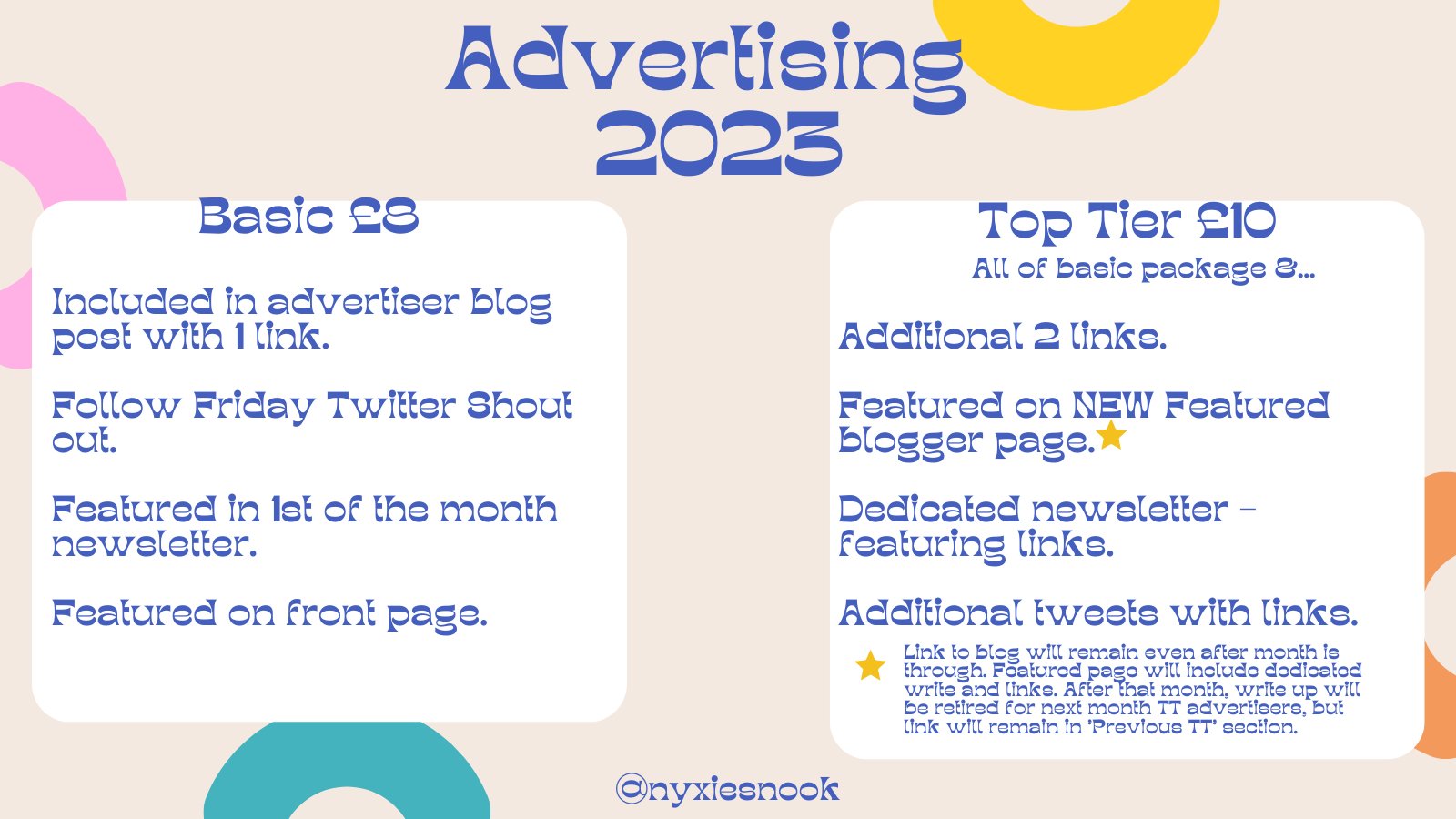 As some of you might know I recently left my full-time position and am back to blogging part-time. While my advertising for the rest of the year will remain at only four pounds, I've decided to make some changes for 2023. No announcement has been made yet, though, so please keep an eye on my Twitter!
I am still happily hosting and writing guest posts. As always, these will be free of charge, placing neither party under any pressure.
Interested in booking your slot? Email me at [email protected] or DM me on Twitter to discuss.
*If you wish to be left out of any of the advertising features, all you have to do is ask. I understand that not all advertising is for everyone, and this package can be modified to suit you and your readers.