[AD] The scratching post mentioned in this post was gifted by Catipilla. Please read the disclaimer for more information in regards to sponsored and affiliate links.
As an avid cat mother, I know the importance of keeping your cat happy and healthy. I regard their well- being to be just as important as my own health, if not more so. And that includes their mental health. We don't often think of our animals' mental well-being, but when your cat companion is feeling unhappy or ill, it's glaringly obvious. At least to long term cat owners. But if you're not familiar with our feline companions, you might not be able to spot the signs. And if your cats aren't happy, then it's natural that you might begin to experience some anxiety yourself. That, or your home might be open to some less than savory behaviours.
In order to maintain a happy household, you need to keep an eye on your beloved pet. Animals do so much for our well-being and mental health, that it's only right that we look after theirs. Therefore, it's very important that we watch out for any signs of stress, sickness, or general discomfort.
Check out this post by Two Plus Dogs to learn more about animal wellness.
Willow and Samira; Our happy cats.
These are my two feline companions. Willow and Samira were both adopted from Mid-Antrim Animal Sanctuary. Although they both have very different personalities I love them equally. Even when they yowl at daybreak or fight for no apparent reasons.
As they're both so different it's important that I'm able to tell when either of them is in distress. Samira, for example, is very talkative, while Willow is the opposite. Being able to identify their individual way of working helps me remain vigilant for any apparent signs of stress or sickness.
** Please note that I am not an expert. The majority of this information comes from my local vet and Jackson Galaxy, the self-proclaimed cat daddy. Not all cats are the same so please be mindful when reading this.
---
Do you have a happy cat? Warning signs to watch out for.
There are multiple ways of spotting an unhappy cat. Unfortunately, I'm unable to cover everything so please be aware that this is not a definitive list. If you're concerned about your cat there are many reputable websites you can visit for further information (please see the end of the post). But as fantastic as the internet can be for valuable information, my advice would be to seek veterinary opinion over that of the internet if at all possible.
Need advice on keeping your cat safe during fire work season? Check out this post.
Spraying.
Although spraying can be seen as an aggressive behaviour, it's also used as a means of comfort for your cat. When it's feeling distressed, your cat will spray to self-soothe because it surrounds them with their own scent. An unhappy cat can be stressed or afraid for a variety of reasons including separation anxiety or a new addition to the house (both human or animal).
When we first introduced Samira to Willow, the latter took to spraying for the first few nights. This was quickly remedied by providing more litter boxes and introducing them to each other slowly, rather than all at once. Now, while they still keep their distance, they are both happy cats when within their own, separate space.
Uncharacteristic vocalisation.
Some cats like to talk to their humans all the time. Other's remain largely silent until feeding time when they howl with hunger. If your cat is vocalising more than usual it could be due to stress and anxiety. It's also important to pay attention to the type of sound they're making. Obviously our cats can't speak to us directly, so they use different sounds to let us know what they want.
I know when my cats are hungry because of the sound they make. Equally, I know when they're (Samira, mostly) wants attention because she'll chirp and squeak. But the sound I hate to hear the most is the long, mournful yowl which indicates she's unhappy. This usually occurs when she's tangled in her lead or wants out to play.
If you notice a change in how your kitty is speaking to you, whether it be a different tone, less frequent or more frequent vocalisations, start looking for possible sources of stress or discomfort. It might also be a good idea to schedule a vet appointment if you're unable to find any obvious reason as it could be medical.
Things heating up this summer? Check out this post for signs of overheating in your pets.
Change in eating habits.
Cat's are empathic creatures and are easily able to pick up on their guardian's moods. Therefore it's no surprise that cats, like humans, can experience anxiety, stress, and even depression. And much like us, this can directly impact how your cat reacts around food. When a cat is feeling unhappy, unwell, stressed, etc it may refrain from eating. A cat who usually comes running at the sound of their treat box, might not show any interest at all. And although it's less common, some cats may increase their food intake as a way of self-soothing. This is especially true if you practice free feeding, meaning that food is left readily available for the cat at all times.
Regardless of which side of the coin your cat is on, it's important to keep an eye on their eating habits and even their weight. A change in eating habits can be a big indicator that something is off.
Over or under grooming.
Grooming is a normal part of a cat's routine. It's healthy to see your cat actively looking after their coat. But when your cat is feeling unwell or down in the dumps, you might notice one of two things. Cat's either over-groom, causing hair loss, hairballs, and even sores. Or they might neglect their coat altogether, resulting in matting and a generally unkempt appearance.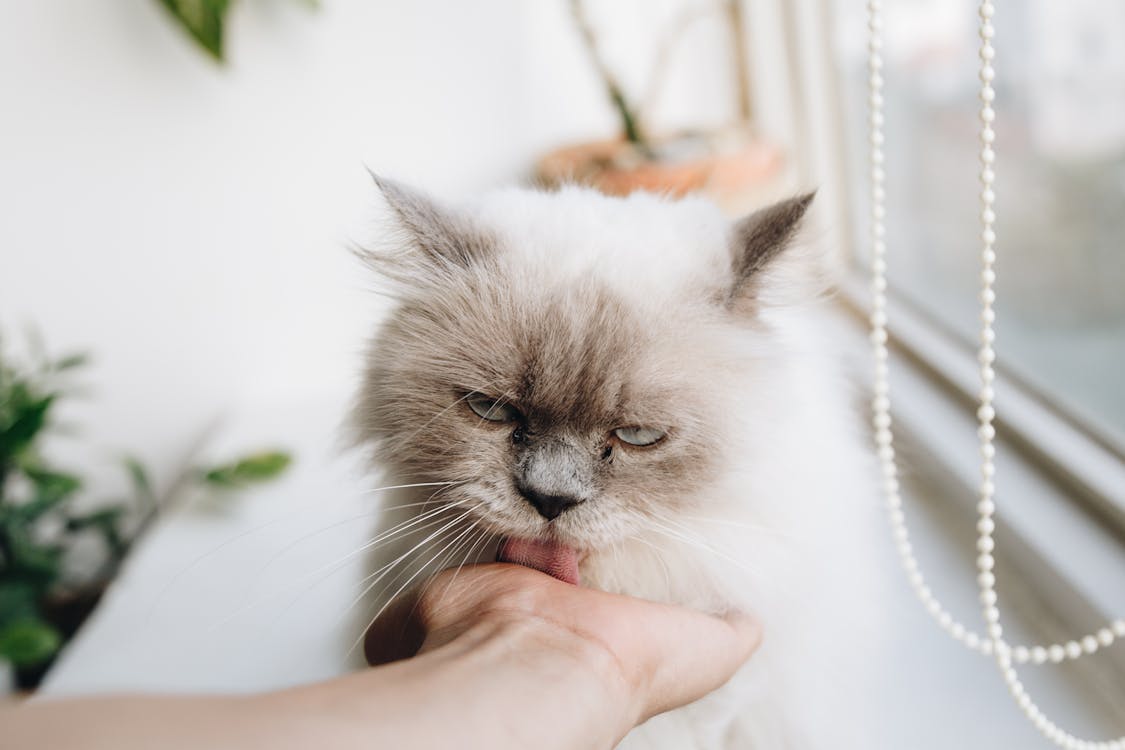 Change in body language.
Cat's can tell us a lot from their body language. In fact, that's how a cat naturally communicates with each other. Vocalisations are reserved for their guardians and human folk only, the body language is where the real communication happens. Keep an eye on how your cat holds themselves. Are their ears back? Fur on end? Tail low and possibly puffed up? It's possible that your cat is feeling unwell, stressed, scared, or even threatened. If you notice your cat is acting out of sorts and exhibiting any signs of distress in their body language, take a look at their immediate environment. Even house cats can be put off by that one cat in the street who likes to pee on your front porch, so be sure to handle it accordingly using a citrus cleaner to ward off unwanted visitors.
Finally, if you're unable to find any reason behind your cats change in body language it's best to seek medical advice as it could be caused by an unseen illness.
*Although it's normal to see a cat exhibit all these things when playing, a happy cat will unwind and relax after play is over.
---
How to keep your indoor cat happy.
Plenty of things to scratch.
My cats love to scratch. They love the sofa, the carpets, the wooden chest of drawers, and even their human's clothing. Samira especially enjoys scratching cat rope and designated scratching posts. Willow, on the other hand, is picky about what she scratches. She only uses what she deems acceptable, and that's not much by her standards.
Catipilla kindly sent us a beautiful wall-mounted scratching post for our girls to try out! We choose the 75cm pillar which we placed inside our cat's custom made 'cat closet.'
But not every cat will use a new scratching post right away. To get our cats interested we used some catnip spray. It's a sure fire way to make them go crazy for anything you give them and readily available on Amazon or in your local B & M store.
Play time!
There are some cats who require little to no active play. Our eldest cat barely moves from the moment she gets fed in the morning until the moment she needs fed in the evening. She's happy watching the birds, sleeping on the sofa, or even just curling up on your lap. Samira on the other hand is a ball of energy.
Some cats, particularly younger cats, need to be played with for at least an hour each day. If not, their energy starts to come out in destructive ways. They may scratch your sofa, your walls, and even you. Boredom can drive a cat bananas, so it's best to get yourself and your cat into a play routine. Try out a variety of toys until you find what they like, and be ready for their opinion to change at any given moment. Cats are smart creatures and can become easily bored with the same old toy and play methods, so try and keep it interesting.
Affection.
This one speaks for itself. Be sure to show you cat affection in whatever way they allow you to. This could range from frequent cuddles to simply stroking their chins. All kitties are different, so experiment to find out what suits them best!
Regular checkups.
Finally, and arguably the most important way to keep a healthy and happy cat is to get regular checkups. It's advised that cats visit their vet at least once a year for a general assessment. But if you're concerned about your cat it's best not to wait. Get yourself a local vet that you trust and, for goodness sake, get pet insurance! You never know what could happen.
---
How do you ensure the well-being of your feline companions? Do you have any additional tips and tricks to share?
Interesting in learning more about cat care? Check out these fantastic bloggers! They've helped me a great deal in my own journey with cat care and understanding my feline's personalities and quirks.