Weight gain in recovery from anorexia is terrifying! It's hard for those on the outside to comprehend, but imagine climbing the side of a building with no harness and struggling to keep your grip. It's next-level terrifying, But it's necessary to avoid the inevitable.
The truth is your body and outward appearance can recover in one to three months depending on your circumstances. Uneducated folks will assume that once you regain the weight you're healed and ready to head off into the sunset again. The problem with this is that although you're back to a stable and healthy weight, your brain is still catching up.
It can take at least a year to recover emotionally and mentally from the havoc of an eating disorder, and this recovery requires ongoing support and maintenance.
Your body and mind are like a house that you're renovating; You can't just fix it up in a few weeks, slap some paint on the interior walls and expect never to have to nurture it again. It doesn't work that way.
I'll always struggle with the weight gain portion of the recovery. I'm struggling not to buy another set of scales, not to body check, not to run crying from the doctor's office and not to feel elated when the number goes down. It's extremely hard, and if you're in the same place as me you'll know exactly what I mean.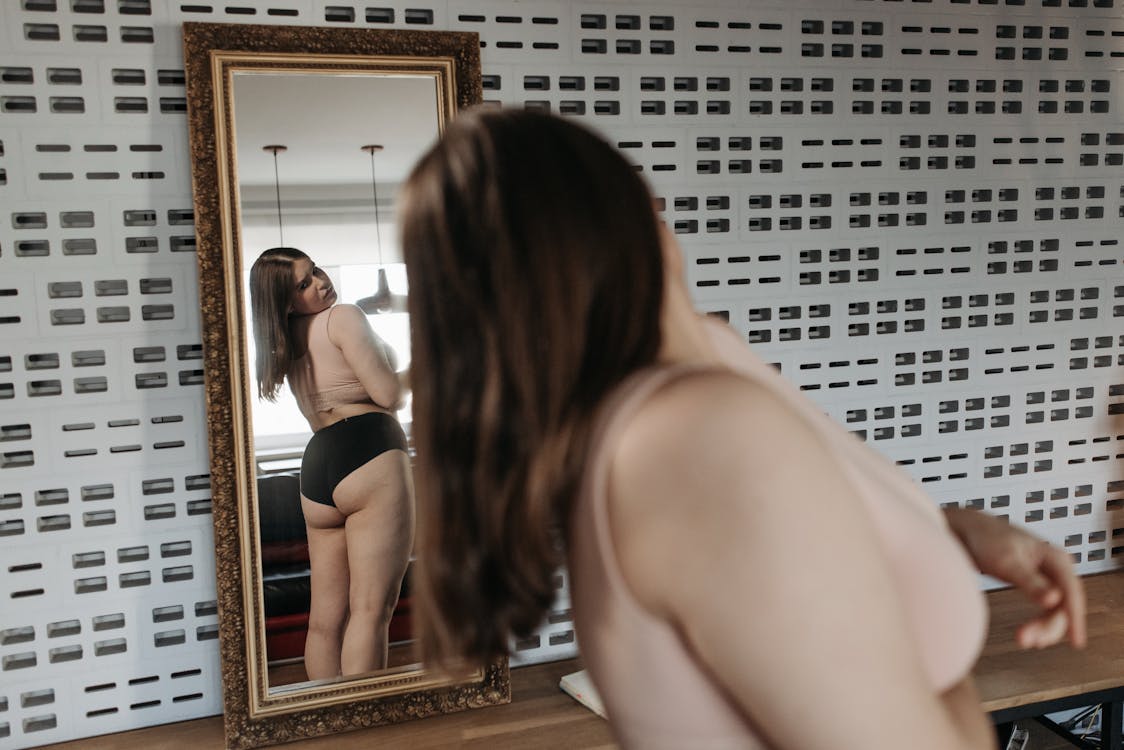 ---
Why's it so hard to accept weight gain?
Weight gain is so hard because, for the longest time, we've been programmed to believe that weight gain is negative.
If you gain weight it must mean that you're lazy, you've let yourself go and you're not trying hard enough.
Or so they say.
Watch any TV show or movie from the nineties or early two-thousands and you'll pick up on little messages about body weight and size.
Monica from Friend's sticks out in my mind! She was the 'fat' one while Rachel was the 'thin' one. Iit was only after she lost weight that men began to notice her for the wonderful woman that she was all along. If Monica was loved and appreciated more after she lost weight then surely the same will happen for us? Right?
Not to mention that we're often worried about the opinions of others. What will they say if I've gained weight?!
We need to overcome our own beliefs about weight gain.
Chances are you're like me and still have that little voice in your head telling you that "thin is good and fat is bad". I'm learning to challenge that and understand that a bigger body is not a negative, it's a sign of health, and stability.
---
How do I challenge the negative feelings of weight gain?
Rini at "Own it babe' gives us the perfect tool for this. She has one question for us.
Aside from the weight I've gained, what are some other things I'm gaining back in my recovery?
During recovery, I'm always asking myself questions like this. I may not want to gain weight but what else will I get back when I do? It's like an exchange policy.
Asking yourself this on a daily basis helps fain perspective on this whole entire thing. You've got nothing to lose by entering into and sticking with recovery, but everything to lose if you don't.
---
8 ways to cope with weight gain in recovery.
Affirmations & mantras.
Without focusing on our physical selves, we can focus on the other things we like about ourselves. Even if we don't believe them at first, it's important to repeat affirmations and mantras to ourselves throughout the day, so that we can give ourselves the opportunity to come to believe them.
I deserve help, love, and respect.
I am enough.
I am brave for being here, and for asking for help.
I have the right to be alive, to be happy and to be filled with acceptance for myself.
I want to be healthy and happy.
I am okay, and I will continue to be okay.
I am strong.
I am a warrior!
You can write them down in a journal, repeat them to yourself as you drive to work, or you can simply say them internally. Repeating things such as positive mantras and affirmations helps us to challenge and even reverse our negative self-talk, appreciate inner strength,and creates self-awareness. Start each day by repeating just one, and as grow to believe them, you can add a few more in. Soon you'll have a whole list to choose from!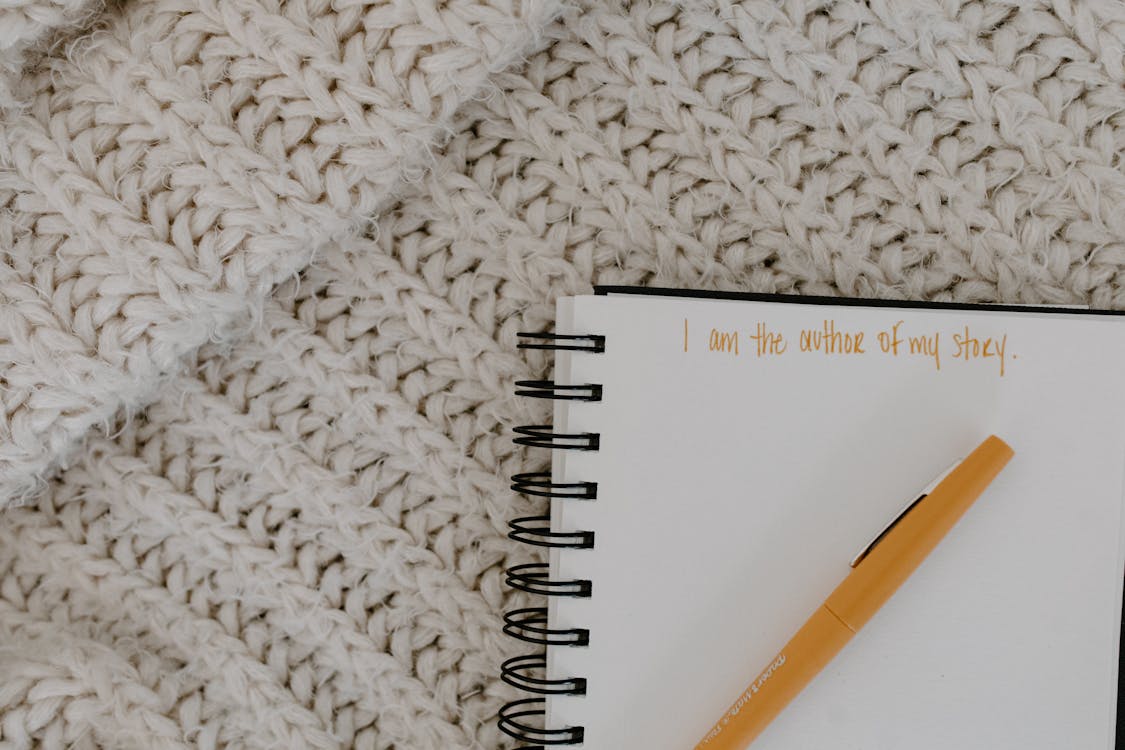 Be clear on your reasons for recovery, and remind yourself of them.
Why are you recovering?
What keeps you motivated during recovery?
Make sure you know why you are doing this, and make sure you and your future are one of the reasons! I started off doing this for my family, my job, my partner and nowhere in that equation did my name come up. Now I'm doing this for all of those things PLUS me. I'm doing this for me and my future because I deserve to live.
Too often we find ourselves stuck in the rut of doing things for other people, and putting others before ourselves. We were guilty of it in life and now we are most likely still guilty of it in recovery. Why? Maybe it's easier telling ourselves that we're doing this for someone else than admitting that we want it to. That we deserve it just as much as anyone else.
Avoid triggers at all costs.
Although our triggers can all be very different, there are a few that cause universal distress.
Get rid of the scale. Throw it out, smash it, donate it, get your partner to remove it. Just get rid of it.
Remove yourself from unhelpful social media accounts that promote the 'pro-ana' body.
After a difficult meal, make sure you are with company. If not, and if you are well enough, take yourself to your yoga mat or out for a light walk. Sitting with an uncomfortably full stomach will only make you feel worse about yourself.
If your clothes don't fit, get rid of them. If they are getting too tight don't put them back in the closet hoping you'll one day fit back into them, donate them, cut them up or simply throw them away.
Remove unhelpful books, movies, TV shows from your list. I love Black Swan as much as the next person, but I can't watch it because it makes me feel so triggered that even the thought of food makes me feel like a fat cow.
This is not a definitive list, only you know what else you can add to this.
It's hard to drive ourselves to give up all the little things we find comforting like the scale, our size whatever jeans and movies where the main character just gets you, but it's needed if we want to move away from that disordered thinking.
Positivity from all angles.
Fill your life with positivity as much as possible. It's the best way to counteract negative thinking and helps in boosting mood, which is very much key to taking ourselves away from the anorexic mindset.
Being positive isn't just done through what we say, but it's also achieved through what we do for ourselves and others. It even resonates in the people we choose to spend time with. If you spend time with negative people you'll only end up being dragged down yourself, so why do it?
Spend time with the people that love and support you in your recovery.
Treat yourself, and don't be afraid to do so. Remember, you are deserving.
Read a good book.
Volunteer with your local animal shelter.
Watch a light-hearted movie.
Send a nice text, call your grandparents for a chat or even write a letter to someone you love.
Funny memes. I don't really need to say any more on that subject.
Accept that weight gain is part of recovery.
Unfortunately for us if we really want to recover we can't just fix our emotional and mental issues and be done with it. We also have to gain weight.
It's unavoidable and actually a rather crucial part of recovery. Yes, we talk about how it's not all about weight gain but the problem is a big part of it still is, and that's scary as hell.
We, and by that I also include myself, need to accept that this has to happen and that there's no way around it.
Eliminate body checking.
Bodychecking in any way will only pull us back towards the bony fingers of anorexia and serves no purpose other than to trick us.
Don't be fooled, I am working on this one! I struggle to get away from the little things that I do to check myself, but I am aware of it and I am trying. It's one of the hardest ones for me because I do it automatically without thinking. I have started to pick up on about 40% of the body-checking behaviour and I am gently calling myself out on it.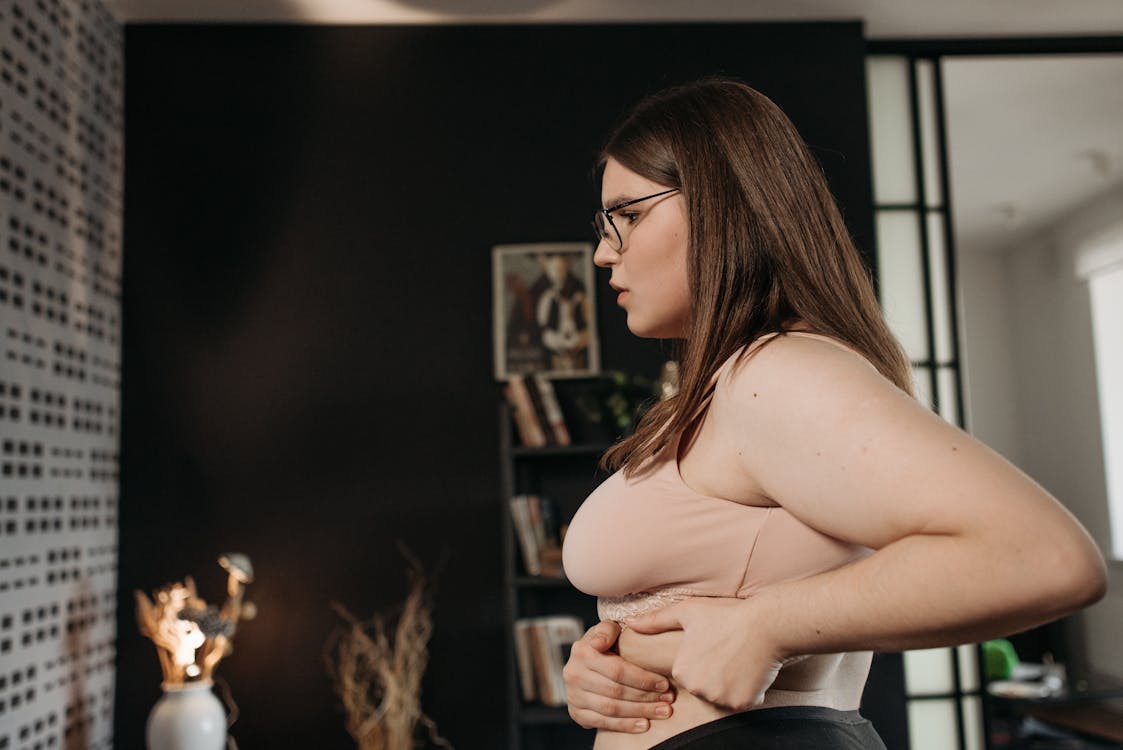 Things will begin to shift as recovery moves on.
The more we eat, and the closer we get to a healthy weight, the more our brains will repair themselves. With it, the fear of weight gain will reduce. At first, I was terrified that I would gain ten kilos in one week from all the food I was eating, but I didn't. Although I am still afraid of weight gain I am more able to rationalise the fact that weight doesn't actually go on that easily at all.
Anorexia manipulates you into forgetting all your prior knowledge of nutrition. I studied nutrition in college, and I've even covered it to a degree in university, yet anorexia has been convinced that it's right, and my rational brain is wrong.
It's the nature of the beast, but with proper nourishment and time, my mindset should shift to allow room for my more rational brain.
Not only does weight re-appear at a much slower rate than initially thought, but it also distributes itself differently. What I mean by this is that once our bodies come out of re-feeding mode the weight won't just remain in one area (which tends to be our stomach at first). It'll spread itself across the body to where it's supposed to be.
FOOD IS MEDICINE.
A therapist told me to repeat this to myself every time things got tough, and remind myself that food is medicine. It's not evil, it's not poison; It's what I need to get better and, above all else, stay alive.
There are no medications that can treat anorexia like there for mental illnesses, there are only medications that can alleviate the symptoms of depression and anxiety that co-exist with it. The only medicine we have at our disposal is food.
What do you do when you're scared of the only thing that can cure you?
You surrender to it.
By that I mean you give yourself over to the food, let it guide you, and allow it to heal you like it desperately needs to.
---
Have you any other tips for coping with weight gain in recovery?