Habits and rituals give structure to our lives. For many, they provide a safety blanket for us to hide behind when things start to feel rough. Having daily rituals can keep us within routine, help us remember daily tasks and even help those around us. But, they can quickly become obsessions. For issues such obsessive compulsive disorder (OCD) and eating disorders, unhealthy rituals can be debilitating and even life altering!
From my own experience with anorexia, I know that the majority of unhealthy rituals are kept alive by fear and anxiety. They're draining, time-consuming and can dictate a number of things; what we do, where we go, time frames and how we feel! Sometimes the only way I was able to quiet the voice in my mind was to take part in distraction and self-soothing.
What happens when mental illness causes us to develop unhealthy rituals and how do we begin to overcome them?
**Please note that for those going through an active eating disorder, or having recovered, this post may contain triggering material. Read at your own discretion, but I take no offense to clicking away.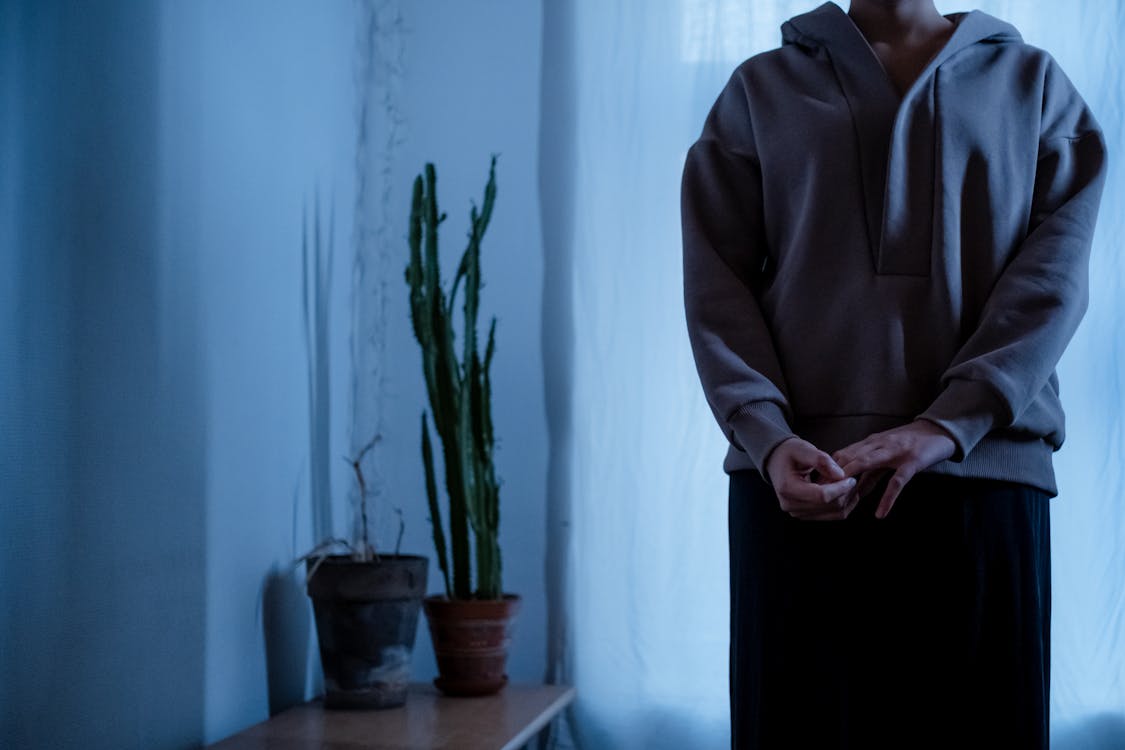 ---
What are unhealthy rituals and how can they consume us?
Unhealthy rituals, also called obsessive-compulsions, are often repetitive actions that people use in response to distressing or unwanted thoughts. Some use them as a means to reduce their anxiety or to prevent an undesired outcome. From my own personal experience with anorexia nervosa, unhealthy rituals were a huge part of keeping the disorder happy. Quite often I would find myself doing strange things just to prevent weight gain or stop myself from consuming food.
Here are just some examples of unhealthy habits I experienced when living with anorexia nervosa.
Body checking.
This is one I still struggle with, even two years into recovery. I don't own a digital scale, therefore can't weigh myself. Instead, I find myself body checking in other ways. Sometimes I'm able to stop and gently bring myself to the present, telling myself I don't need to do this. Other times it happens subconsciously.
Cutting food into tiny pieces.
In the early days of my anorexia during my teens I would rip food into tiny pieces. Now I deconstruct food where I can so that I can eat them separately. That means eating each part of a sandwich or wrap using a fork and knife so that nothing is eaten together.
Measuring food.
I wasn't big on the measuring in my early anorexia experience, but this time something clicked within me. At one point I was weighing out cereal to exactly the recommended grams or less, and even weighing things like fruit. I've since given this up completely and the only food I weigh is for my cat.
Eating at the same time, in the same place every day.
When I was younger strict mealtimes were a thing I was obsessed with. If food wasn't out by five thirty PM, I would have a meltdown. Now I'm much better at adapting to change because when you're an adult, life doesn't always mean you can eat at the same time every day.
I try to stick to a routine as much as possible, and I know being out of routine can mean forgetting to eat or not having time to eat.
Weighing myself multiple times a day.
There was a point where I would weigh myself multiple times a day just to make sure I was in control. Even if I hadn't eaten or drank anything, I still insisted on weighing myself. I haven't stepped on a scale in nearly three full years, and I can still remember the fear I would feel not knowing. Looking back, I certainly wasn't the one with the steering wheel.
Other common examples of unhealthy rituals might be things such as counting, repeating words or phrases, obsessive hand washing, organising items in a certain way, obsessive cleaning or even the constant need to be reassured by others.
How to know if you have a problem with unhealthy rituals.
If a ritual or habit creates any of the following scenarios you may have an issue;
The habit is so important that you can't function without it.
It's hard to go for long periods without feeling an intense compulsion to perform that habit.
You seem to be thinking about your habit for much of the day.
---
But how can they impact our lives?
They can be time consuming and severely interfere with your life.
When you're consumed by unhealthy rituals, it can take up a large portion of your time. Not only that but it can completely hijack your concentration. This can lead to a loss in productivity, poor work performance, disruption to your daily activities and strained relationships.
They can cause emotional distress.
Unhealthy rituals often contribute to a vicious cycle of compulsion and obsession, and while they can temporarily reduce anxiety, they only contribute to the distress felt. From personal experience, it feels like being trapped in whirlpool that you can't break out of. To break the feeling of anxiety and frustration, you need to carry out the rituals, but by carrying them out you continue to add to those feelings. And so on.
They can cause relationship conflicts.
Unhealthy rituals and compulsions can drive wedges between even the most well rounded relationship. Between being unable to convey your convulsions to an outsider, and how difficult it can be to accommodate them, our loved ones can become very frustrated. They're difficult for the sufferer to understand, so imagine how hard it must be from the outside looking in? My partner once said that it felt like he was in a relationship with my addictions, be it weighing myself or my obsession with numbers. For a long time he resented everything I was going through and, by association, me.
They can be isolating.
Quite often it's difficult to be around others when dealing with unhealthy compulsions. It becomes much easier to isolate yourself and stay away from potential triggers, and the judgemental looks of others.
Other issues.
Physical issues such as skin conditions, infection and irritation.
Co-morbid mental health conditions such as anxiety, depression, eating disorders
---
How can we challenge unhealthy rituals & compulsions?
Before we begin it's important that I reassure you of just how difficult it can be to give up on unhealthy rituals and compulsions. Change doesn't happen overnight, and may take several months and even years. For some, the compulsions may never go away completely.
With that in mind, here are just some of the ways to work towards overcoming unhealthy rituals, alongside some advice to remember.
The first steps and some important reminders.
First of all, it's important that you acknowledge the unhealthy rituals.
Without taking the time to recognise and accept them as a problem, how can you expect to overcome them? During this time, remind yourself that these rituals or compulsions aren't serving your well-being, and that they need to be changed.
Seek professional help.
For some, professional help may be needed. This is especially true if for more severe or persistent compulsions, or for those suffering from a mental health condition. Not sure what mental health professional you need? This is usually a counsellor or therapist, and even better if they've specialised in your specific issue.
They will be able to provide you with tailored guidance and support as you continue on your journey. As you work alongside a professional, they will encourage you to explore what might be triggering the unhealthy rituals, and how best to move forward.
In regard to triggers, these may be in the form of situations, feelings, thoughts and even memories.
Discover alternative coping mechanisms.
It's important that as you move away from unhealthy rituals, that you find healthier coping mechanisms. Without them, it's impossible to break free!
Look for alternative activities to focus on, such as writing, drawing or a form of exercise you enjoy. It could even be something as simple as a relaxation technique that helps quiet your mind when you're feeling on edge.
Build a supportive network.
It's important that you surround yourself with those who will support you through this journey. This could include friends, family, co-workers and even support group members. Not everyone will understand, but they can still be there to support you during the challenge!
While I was going through eating disorder treatment I went to a support group every Wednesday at the clinic, and one on the last Tuesday of every month. While everyone there was going through their own issues, we all had a similar understanding. I personally found them very helpful, but also quite triggering, therefore I eventually removed myself. It's important to remember that while support groups can be very insightful and helpful, they can also be detrimental. Never stay in a situation where you're left feeling more triggered than when you entered.
Practice self-care throughout!
Self-care is extremely important, especially if you're engaging in therapy and exploring potential triggers. Make sure you're getting enough sleep, eating enough, drinking water and engaging in activities you enjoy. And that's just the basics! Allow your battery to recharge without feeling guilty!
Stay persistent!
Rome wasn't built in a day. As I stated before, change will not happen overnight and you need to stay persistent! It can feel like an up-hill battle at times, but remember that recovery is never linear. No matter who you are. It ebbs and flows like a river, therefore you should expect to fail. But always get back up again!
Use positive self-talk.
Challenge the negative thoughts and beliefs with positive affirmations! You CAN do this, you ARE worthy. Let no one, including yourself, convince you otherwise.
Here are just a few to get you started.
I am in control of my thoughts and habits!
I resist the compulsive urges.
I can overcome these obsessions.
I can control these behaviours!
I can change!
I will stop letting these unhealthy rituals control me.
I trust that everything will be okay.
I am strong and resilient.
I trust in my ability.
I am enough, exactly as I am!
Methods for overcoming unhealthy rituals.
Postpone the ritual.
Let's not beat around the bush. If you struggle with unhealthy rituals, then you know how difficult it can be to say no to them. And while we will talk more about this earlier, the chances of you completely stopping a ritual cold turkey are very slim. Instead, what I was encouraged to do during eating disorder recovery, was to postpone a ritual as much as possible.
Let's take weighing as an example. I wasn't about to let my husband throw away the scales the moment I entered recovery. Instead, we agreed that it would be placed somewhere out of sight, therefore out of mind. Each time the urge to weigh arose, I was encouraged to postpone it. First for fifteen minutes, then thirty and, eventually, an hour.
I would be lying if I said this was easy. The first few times I tried this method, I struggled deeply with not being able to weigh myself. But eventually and as I progressed through treatment, things became easier. And, in January twenty-twenty, my husband and I took a hammer to my set of scales.
I've not weighed myself since.
Change an aspect of the ritual.
My therapist and I came up with a method that would later tackle how I dealt with food. In the past I cut food into tiny pieces to the point where it took me over thirty minutes to eat one meal. As my recovery marched on, however, I put more thought into what I was doing. Instead of allowing myself to cut up the food, I choose one thing to cut up. Eventually, I was able to stop cutting food up unnecessarily. And now I can eat a slice of pizza in the way it's meant to be eaten; by hand and with the sauce all over my fingers.
Add a consequence.
Similar to adding a pound into the swear jar every-time you drop an 'F' bomb, you can add a consequence to performing an unhealthy ritual. By no means does this allow you to use this as a punishment, instead think of something like putting a pound into a jar.
Here are some examples.
Call a support person.
Put money into a savings account.
You have to buy your partner a snack or coffee next time you're in town.
It can be hard to think of things that don't play off as a punishment. But it's important to remember that we don't want to punish ourselves, instead we want to discourage ourselves. That's why putting money into a jar or a savings account, or calling someone is a considered a 'light-heartened' consequence. We're doing something to benefit ourselves, but it's still not something we necessarily want to do.
Choose not to do the ritual.
As time marches on and you continue on your journey, eventually the time will come when you feel capable of leaving the unhealthy ritual behind. You can either replace it with a healthier one, or nothing at all.
But, and I can't stress this enough, this is very much the last stage of overcoming an unhealthy ritual. If you can't manage to avoid an unhealthy ritual in the beginning, please don't feel disheartened. With perseverance a time will come when stopping a ritual completely becomes easier.