How can we ensure cat safety while outside? Should we allow them out to roam or should we enforce supervised play in the yard? Honestly, the preference is all yours. I'm not here to judge nor am I a 'cat expert'. But the chances are that you've already had the 'will we, won't we' discussion. And there are many reasons why you could choose to allow one or the other (or even both).
Many Irish families opt to allow their kitties to roam the local area because historically they were an excellent method of pest control. However, with the ever-changing environment, more and more people are opting to keep their cats strictly indoors. Due to the area in which we live, both are cats are kept inside. But with that being said our youngest cat is very boisterous, and she loves to run around. This can mean chaos for our household! So, to help her burn off some of that excess energy we frequently allow her outside for supervised playtime.
Despite the fact that she's attached to both an extendable lead and a harness, she's somewhat of a Houdini. We've watched as she's broken free just to explore an awkward spot of the yard that she couldn't before reach (and often for good reason). Samira is definitely more of a handful than her sister, and that's why she always has a collar & name tag.
Samira was sent this gorgeous collar from Cool Cat Collars. It's adjustable, so no need to worry about sizing, and let's all agree that purple is definitely her colour.
Willow, or oldest feline, also received one. She's not the outdoor type and hates being outside, so she flaunts her beauty solely indoors. Even so, a collar is a must just in case she makes an escape. Her beautiful pink collar really compliments her fur and, surprisingly, she loves wearing it.
---
The importance of cat safety for the anxious mum.
From the moment we take our pets home they become part of the family. It can, therefore, be distressing when they go missing or show signs of becoming unwell. Although it's true that cat safety is easier to manage while they're inside, there are some things we can't avoid. Eye infections happen, upset stomachs aren't uncommon and they can always slip through our feet as we're leaving the house. Accidents happen and they can make us feel extremely anxious as pet owners.
Willow's Disappearing Act.
I can recall one instance where Willow took it upon herself to explore our neighborhood. We'd had her for a few months at this point and she was always a very timid cat. It was within her best interest to keep her indoors for the majority of the time. Even when outside she'd never made an attempt to go any further than the fenced perimeter. That is until one day.
Ryan was watching her as usual but he wasn't quick enough to stop her leaping over the fence. It was unexpected and, in hindsight, I don't blame him for being unable to reach her in time. She managed to make her way into the neighbour's yard before stopping and crying for help. Since then she's never set a paw beyond the patio steps and, as the anxious pet owner, that suits me just fine.
Our cat's safety and well-being can gravely impact our own mental health. It's therefore important that we know how to safely allow them access to the outdoors. If you're unsure how to get started with letting your cat outdoors, check out some of the suggestions below. Or speak to your vet to get a better understanding of what you need to safeguard against in your area.
---
How to keep your indoor cat safe outside.
Supervised outdoor time with or without a leash.
If you have a garden you can easily allow your cat outside while you keep watch. Cats are agile creatures and so if you're opting against a leash, it's important that you give your cat your undivided attention.
When we need to get things done around the house, Samira can be a real nightmare. It's on these occasions that we attach Samira to her harness and retractable leash, and allow her to roam the yard. The leash allows her freedom to reach all the nooks and crannies, while also keeping her from entering any of the neighboring gardens.
Many may argue that if a cat wants to go outside, it should be allowed to do so of its own accord. However, for cat safety reasons, it's not feasible in our area. We're surrounded by dogs, three active construction sites, and a busy road. Therefore the leash is the safest way that Samira can get unsupervised access to an outdoor area. As for our other cat Willow, she's simply not interested in the outdoors and even when the door is open, she's happy just to watch.
Taking your cat for a walk.
I know what you're thinking because every time I mention that we take our cat for a walk, I get that look. The one that says 'you're THOSE people.' But the truth is cats can be walked just like dogs can, and in fact many enjoy it.
If you're thinking of taking your cat for a walk it's best to purchase a harness for extra security. You can use an extendable leash or a standard one, but for safety reasons, I always find it best to keep our youngest cat on a short line simply because she doesn't understand roads. Cats will need time to get used to both the harness and the lead, so it's best to take them out in small bursts or use the above method to get them used to the new equipment.
But remember: Your cat is taking you for a walk, not the other way around. Provided that they aren't in danger it's best to let your cat guide you, and use the leash only as a means to keep them safe rather than to direct them. The chances are if you try to control them, they'll simply lay down.
An enclosed outdoor 'cat-io.'
Have you ever heard of a 'Cat-io?' It's essentially a safe area for your cat to run around without the danger of escaping. Much like a run for dogs but with high places to climb and a caged roof to prevent any acrobatics.
They're slightly more expensive than the options above, but they're certainly interesting. If you have the amenities for one of these beauties it would be a great way to safely allow your cats to go outside whenever they want.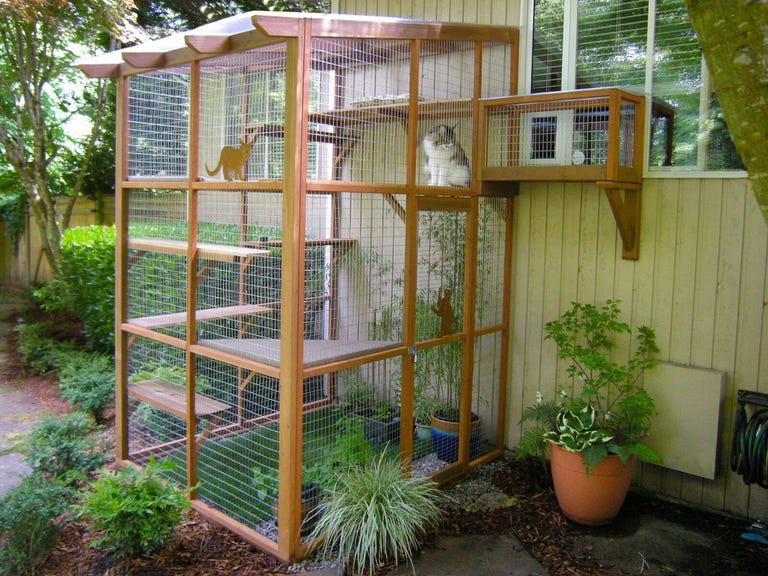 ---
How do you ensure optimum cat safety when allowing your indoor cat outside? Have you come up with a different method?
** If you like what I do please consider donating to my KO-FI fund.