[AD] The Below Post Has Been Sponsored. For More Information On Sponsored Posts, Please See The Disclaimer Page.
Please note that while the following post is aimed at those in the Wisconsin area, these solutions can work no matter where you are in the world!
The first thing my husband and I did when we paved our yard was go in search of lighting on a budget. Outdoor lighting can transform your Wisconsin backyard into a magical, inviting space, even after the sun goes down. But, let's face it, professional outdoor lighting solutions can be pricey. The good news is with a little creativity and some DIY prowess, you can create a customized glow in your outdoor space without breaking the bank.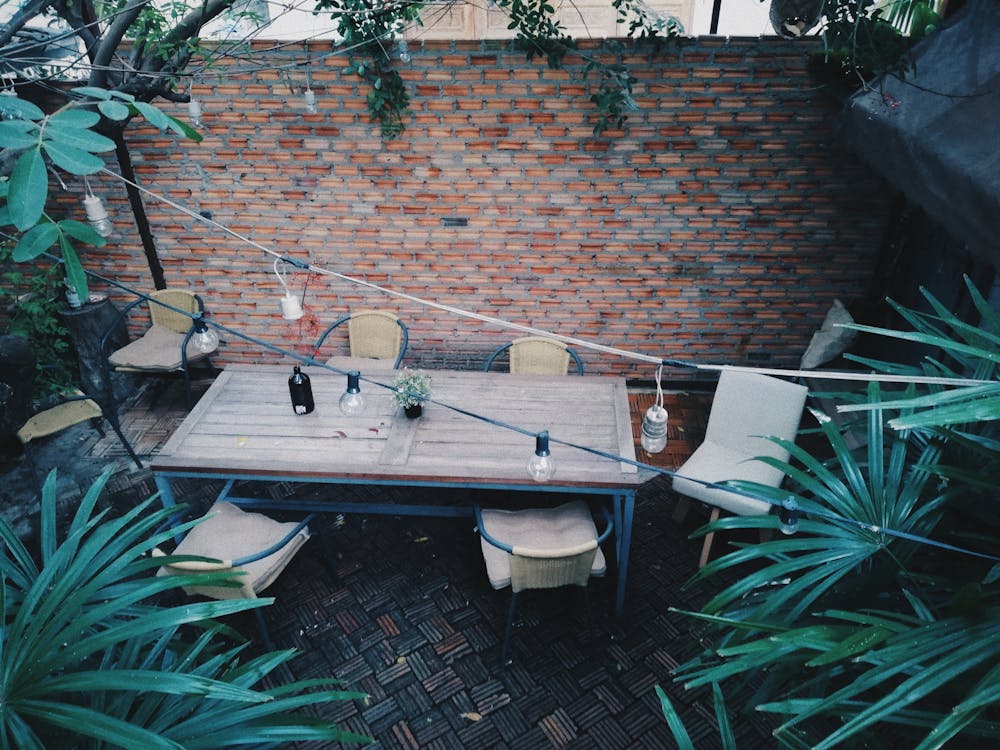 ---
Outdoor Lighting On A Budget: How To Light Up Your Backyard!
String Lights for a Festive Ambiance.
The best method to give your outside space a festive feel is using string lights. They're versatile, easy to install, and can be draped around trees, along fences, or hung overhead to create a canopy of light. Plus, they're relatively inexpensive and widely available.
Imagine sitting under a canopy of twinkling lights on a warm Wisconsin summer night, surrounded by friends and family. With string lights, you can transform your backyard into a magical retreat where memories are made.
Solar-Powered Path Lights for Safety and Beauty.
An efficient, economical, and practical way to light up driveways, garden walks, or walkways is with solar-powered path lights. They charge during the day and automatically light up at dusk, providing a soft glow that enhances safety and adds beauty to your outdoor space.
Consider a winding garden path softly illuminated by solar-powered lights. Not only does it create a beautiful nighttime landscape, but it also ensures that you and your guests can safely navigate your backyard, even in the dark.
Mason Jar Lanterns for a Rustic Touch.
Any outdoor area is given a beautiful, rustic touch by using mason jar lanterns. All you need are some mason jars, candles, or battery-operated tea lights and some wire to hang them. You could also fill the jars with fairy lights for a magical effect.
Picture a row of mason jar lanterns gently swaying in the Wisconsin breeze, casting a warm, flickering light across your patio. It's a simple and affordable DIY project that can add a lot of ambience to your outdoor space.
DIY Chandeliers for an Elegant Glow.
Believe it or not, you can create beautiful, outdoor-appropriate chandeliers using inexpensive materials like old baskets, strings of beads, and battery-operated LED lights. Hung from a tree or a pergola, these DIY chandeliers can add an elegant touch to your backyard.
Imagine a vintage-style chandelier hanging over your outdoor dining table, casting a soft, elegant light on your alfresco dinner parties. It's a unique and budget-friendly way to elevate your outdoor decor.
Repurposed Lighting Fixtures for a Unique Look.
A unique and inexpensive method to light up your backyard is by reusing outdated inside lighting fixtures outside. Old chandeliers, pendant lights, or even table lamps can be given a new life and a new purpose in your outdoor space.
Think about an old table lamp, repainted and weatherproofed, casting a cozy glow on your patio. Or a discarded chandelier, now hanging from a tree, adding a touch of whimsy to your garden.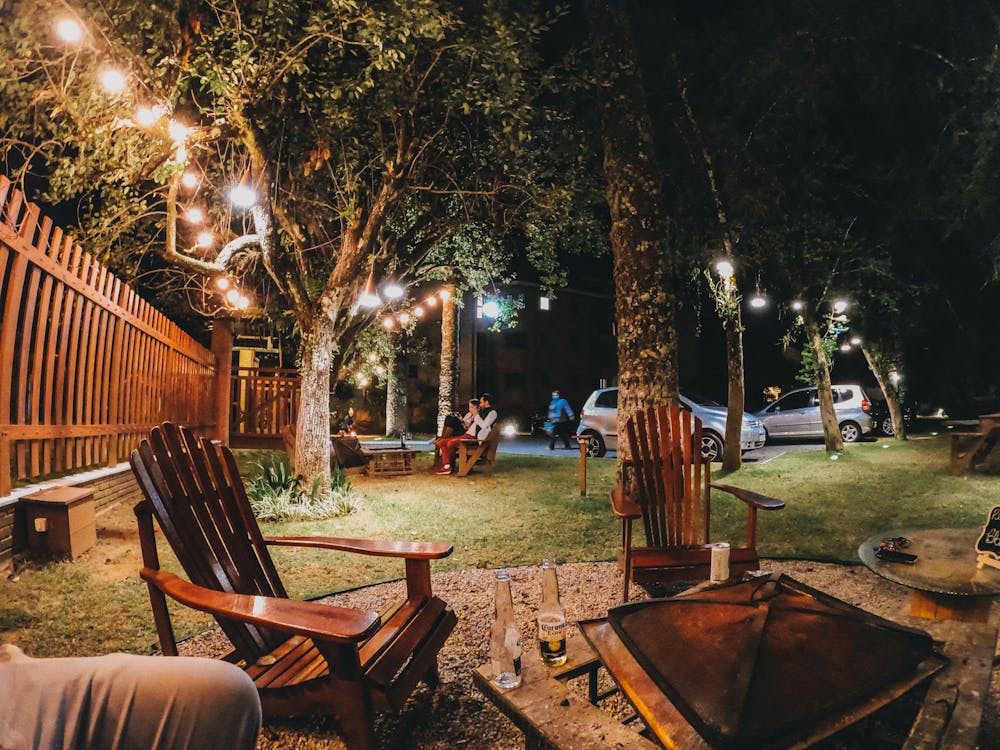 Candle-Lit Lanterns for a Romantic Atmosphere.
Candles are a classic lighting option that never goes out of style. Placing candles inside glass or metal lanterns can protect them from the wind and amplify their glow, creating a romantic atmosphere in your backyard.
Envision a quiet evening on your deck, bathed in the soft, flickering light of candle-lit lanterns. It's a simple, affordable, and thoroughly enchanting outdoor lighting solution.
Rope Lights for Versatile Illumination.
A flexible and affordable outdoor lighting solution are rope lights. They can be used to outline pathways, highlight landscaping features, or create custom light displays. And because they're encased in durable, weather-resistant plastic tubing, they're well-suited to the Wisconsin climate.
Picture your backyard, subtly illuminated by the soft glow of rope lights. Whether they're outlining a garden bed, wrapped around a gazebo, or draped along a fence, rope lights can add a lot of impact for a relatively small investment.
DIY Fire Pit for a Warm Glow.
If local ordinances allow, a DIY fire pit can provide warmth, light, and a focal point for outdoor gatherings. There are numerous online tutorials showing how to build a safe and attractive fire pit using inexpensive materials like bricks or concrete pavers.
Imagine gathering around a crackling fire on a cool Wisconsin evening, roasting marshmallows, and sharing stories under the stars. A DIY fire pit is more than just a source of light; it's a source of memories.
---
Have You Any Other Ideas For Lighting On A Budget?
With these budget-friendly DIY outdoor lighting ideas, you can create a customized glow in your Wisconsin backyard without spending a fortune. From festive string lights and rustic mason jar lanterns to elegant chandeliers and cozy fire pits, there's a DIY lighting project to suit every style and every budget with Blingle North Milwaukee in Wisconsin. So why wait? Light up your outdoor space and enjoy those warm Wisconsin nights to the fullest.