When it comes to ways to celebrate Father's Day, I'm usually left dazed and confused. I can never find the right gift or experience for my dad to enjoy. Whether it's because my father is difficult to buy for, or the fact I leave everything until the last minute, I just never seem to find the right thing. But this year I decided to start early and research some free and cheap ways to celebrate Father's Day. Some of these require no more than prior planning, while others might cost a penny or two. But all are guaranteed to make your dad (or husband, or pet dad) feel appreciated.
If you'd like to learn more about the history of Father's Day and why it's so important, check out the bottom of the page. I thought it was a wonderful way to sum up this guide, and important that we know where the concept of Father's Day started.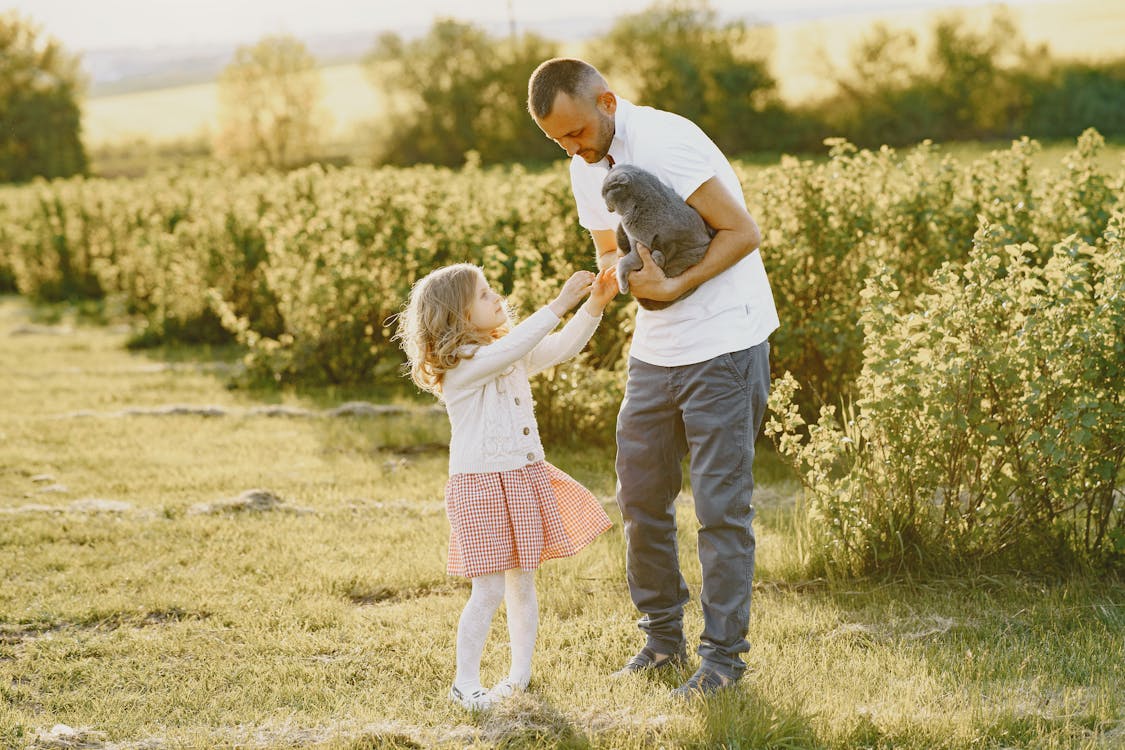 ---
10+ Cheap and Free Ways To Celebrate Father's Day Gifts.
A homemade card with a heartfelt message.
Whether it's from you, the kids or your pets, you can never go wrong with a heartfelt card. Bonus points if it's homemade or created by you! I created a card in Procreate, and it cost next to nothing to print with Snapfish. While our two cats had very little to do with it, it's all about the gesture.
If you're not creatively inclined, why not hop onto Canva? It's easy to use and to create professional-looking cards in a matter of minutes!
Breakfast in bed.
I'll be the first to admit that I'm a horrible chef. While I'm trying to improve, I simply can't comprehend the kitchen. And that's perfectly okay! But this Father's Day I plan to surprise my husband with a 'beautiful' breakfast in bed (from the cats, of course). After all, he's an amazing father to them and deserves a sausage sandwich in the comfort of his own duvet.
Do some digging, and find out your dad (or husband's) favourite breakfast food. It doesn't even have to be a traditional breakfast! You can cook it yourself or, if you're smart, get it delivered.
If you're planning on breakfast in bed, tell me all about it in the comments! Did you make it yourself, or get it delivered? And did you have any little helpers?
Here are some simple ideas for your Father's Day breakfast!
Close the curtains and encourage him to lie in.
Let's be honest, adulting is exhausting. While my husband needs no encouragement to lie in, my father certainly does. Given the opportunity, my dad is up at first light doing God knows what. Lie in? Never, not in his day! But it's the twenty-first century and we're far more in tune with self-care than we used to be. A lie-in is encouraged and even warranted once in a while. Especially when you enter the over-fifties club.
If you have a stubborn dad like mine, remind him that it's okay to rest a little longer. Even if it's upright in front of the TV. Encourage him to take some time to himself this Father's Day morning to simply enjoy his breakfast and cup of coffee. Everything else can wait.
Check out this post for twenty simple self-care activities for your dad this Father's Day.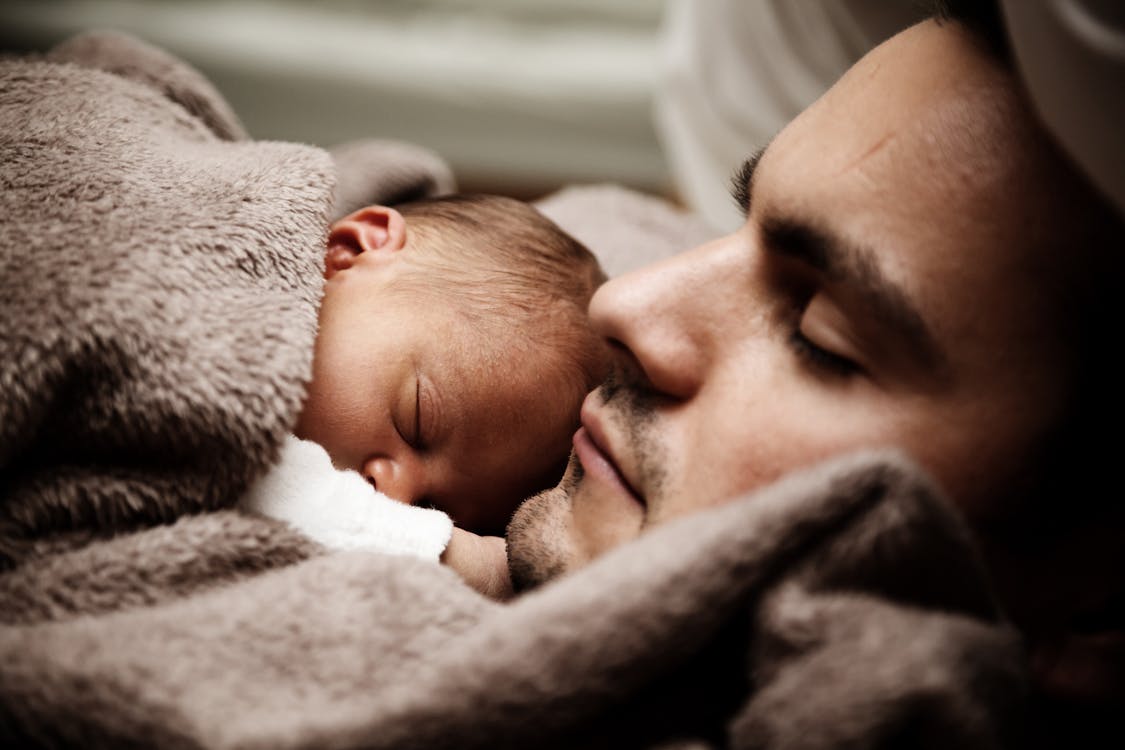 Run him a hot bath.
Baths aren't just a feminine thing, even though they're often portrayed that way. There's nothing my husband loves more than taking a long, hot bath. He uses that time to catch up on his gaming streams or listen to podcasts. Better still, it's something that's solely his. I don't join him because I overheat too easily, and the cats certainly won't go anywhere near him.
If your husband or father is that way inclined, run him a hot bath with some salts or a bath bomb. Encourage him to use that time to relax, unwind and catch up on a good book, podcast or even just listen to some music.
Go for a family walk or hike.
If you're an outdoors family, why not pack up the car and had to your local hiking trail? Even if you're not, it's a great way to get started. Now that the weather is heating up you can all use this opportunity to spend some time together and get much-needed natural sunlight!
Go for a picnic.
Our favourite thing to do when the weather is nice is to head out for a picnic. Even if it's just in our backyard. You can incorporate this into your aforementioned family walk!
Have a BBQ and invite others!
It's June and the weather should have gotten better by now. There's no better time to clean off the grill and invite some friends and family around for a good old-fashioned barbeque! Nothing signals summer more like a burger cooked over hot coals.
Make a photo album or collage of memories!
Creating photo albums full of memories has got to be one of my favourite past times. My grandmother loved collages and albums. She loved to look back on all the memories and share them with us. And I bet your dad will too! Put in some of your baby photos, maybe one of your late dog and it's bound to bring a tear to his eye.
Have a movie night where he picks the show.
I know Dad might have some 'classics' that aren't particularly your thing. But give it a chance! We can't promise you'll be converted to a fan at the end of it, but it's the thought that counts.
Create a personalised playlist of his favourite songs.
When I was growing up creating mixed CDs was a way of showing friendship and love. For a long time my friends and I would exchange CDs we'd specifically made for each other. It was a great way to discover new music, revisit old favourites and express emotions we perhaps couldn't talk about.
This Father's Day, why not go back to basics and create a playlist specifically for your Dad? It could be full of his favourite songs, tunes that remind you of him or something else entirely. You can burn a CD the old-fashioned way or use something like Spotify!
Plan a day trip to his favourite place.
Think of your local parks, hiking trails, museums or restaurants that you don't get the time to visit often! Provided it can be visited in a day, this would be a great way to commemorate the occasion.
Write a letter expressing your gratitude and love.
There's something to be said for handwritten letters. They take more effort and time than an email or Word document. If you're a keen writer, expressing your love through a handwritten letter is a beautiful gesture that anyone will appreciate. You can even use it as part of another gift such as a scrapbook or photo album!
Have a family game night.
Dust off the Monopoly board and buckle up! Or you can take it to the big screen and play Mario Cart, Super Smash Brothers or something similar.
Do what he wants to do.
It's Father's Day, so do what he wants to do. It could be that none of the activities on this list is to your dad's liking, and that's fine. If all he wants to do is have dinner and relax in front of the television, then join him for the experience. Or, if he prefers to take a walk alone, respect that.
It's his day after all and he should be able to celebrate how he wants.
Simply tell him how much he's loved.
In its simplest form, telling someone just how much you love them always hits the mark. Of course, this shouldn't just be reserved for special occasions. We should always be sure to tell those we love just how much they mean to us. Time is precious and we never know exactly how much we have of it.
If you haven't already, tell your dad you love him and make a conscious effort to say it more often.
---
Why is it important to find ways to celebrate Father's Day?
We may celebrate Father's Day every year, but do we really know why? Of course, it's all centered around showing love and gratitude to the 'father figures' in our lives. But when did it start?
Father's Day dates back to the early twentieth century when a woman named Sonora Smart Dodd (Spokane, Washington) felt that father deserved a day of recognition. Mother's Day had already been established at this point, but there was still nothing for fathers. Dodd didn't have a mother, so her father raised her and her siblings as a single parent. She wanted to show him how much she appreciated him for his hard work and sacrifice. In nineteen-ten, the first Father's Day was made official in Spokane, and it later would be celebrated across the US.
Father's Day falls on the third Sunday of June across the US, Canada and the UK. It's a day to celebrate with gifts, events and even something as simple as spending time with your old man. But don't stop there. Take this time to show all the father figures in your life how much they mean to you. That could be your granddad, uncle, father-in-law etc. For many from single-parent households, this could also mean giving mum an extra day of recognition.