Are you a fan of Halloween? If so, you'll want to check out these top tips for having a safe Halloween while enjoying the spooky season.
Having a safe Halloween has changed over the years. From fears of 'poisoned' sweets to killer clowns, there's always something scary happening during this time. Ironic, isn't it? But now more than ever we need to think about our safety and the safety of our young people.
COVID-19 brought about many changes to the way we interact and mingle with others. While the majority of Halloween celebrations are enjoyed outdoors, there are still house parties, haunted attractions, and costume nights. I, for one, can't wait to get dressed up and sample some cocktails. But I'm also aware that celebrations need to be small and as safe as possible.
Costume competitions at your favourite nightclub or a massive family bash may not be possible, but there are many different ways we can enjoy the spooky season. What about a movie marathon with your favourite people, snacks and flicks? Or a scavenger hunt in the safety of your backyard? You can even dress up your pets and have your very own haunted photoshoot! Social distancing doesn't have to mean isolation! So, get creative and brainstorm some other ways to enjoy the most haunted night of the year.
Whether you're trick-or-treating or hitting the pub, here are a few ways to have a safe Halloween.
---
10 Ways to have a safe Halloween.
Wash your hands regularly.
It goes without saying that we should be washing our hands more regularly than ever before. If you're out with the kids trick-or-treating, be sure to get yourself some bottles of hand sanitiser. It's easier than ever before to find these on the shelves, and they even come with handy keychains so you can attach them to your keys. No one should be without sanitiser nowadays, and no doubt there will be some spooky scents to choose from.
You should be washing your hands every time you touch a point of contact, cough, sneeze, before eating or preparing food, after the toilet and after smoking. Additionally, it's recommended that you wash your hands after touching your face for whatever reason.
If you're going trick or treating, agree on a safe route ahead of time.
Make sure that you and your friends stick to the designated route and don't steer from the plan. Especially if you're out after dark. If you're out for the night and plan to walk home, be sure you know the way. Better yet, get a taxi! It's never a good idea to walk home alone or in a small group after dark, especially if you've consumed alcohol or substances.
Make sure friends, family and loved ones know where you're going.
Put your phone on 'find me' if you have it available, and tell your loved ones where you're going. 'Find My Friends' is a free application for Android which allows friends and family members to see your whereabouts based on your phone's location. Similarly, Apple uses 'Find my Phone' which acts in the same manner.
If you're out at night, remember your reflective gear!
This is possibly one of the key components to a safe Halloween, yet is often easily overlooked. If you're out after dark for whatever reason, it's important to wear your reflective gear. Whether you're out for a run or you're playing a lead role in trick or treating, if vehicles can't see you then they can't avoid you.
Know your numbers!
And no, I don't mean the calorie content. Make sure you have your emergency contact numbers handy should you need them in a stick. That includes your family, friends, and any local ICE numbers such as 999 or 911.
Prepare your pets.
Halloween includes many frights and scares. That goes double for our furbabies. Remember that just because you might enjoy fireworks and festivities, they most likely won't. Keep them inside on the nights leading up to Halloween. And if you're particularly friendly with your neighbours, politely ask them to tell you if they plan on letting off fireworks. That way you can make sure your pets are securely locked away, and any outdoor cats are safely inside.
We can't always control what others plan to do with their spooky season. While fireworks may be frightening for some, we can't always assume that for others. Therefore, it's best to be prepared to deal with the fallout. It's also worth looking into calming drugs for use with both cats and dogs that not only help with fireworks but general anxiety.
Finally, some dog trainers will suggest the use of CD's or sounds to help build resistance to noise in dogs. These sessions would start off very quiet, then increase in noise over the coming days or weeks. This builds up the dogs tolerance when it comes to dealing with things such as fireworks, loud music etc.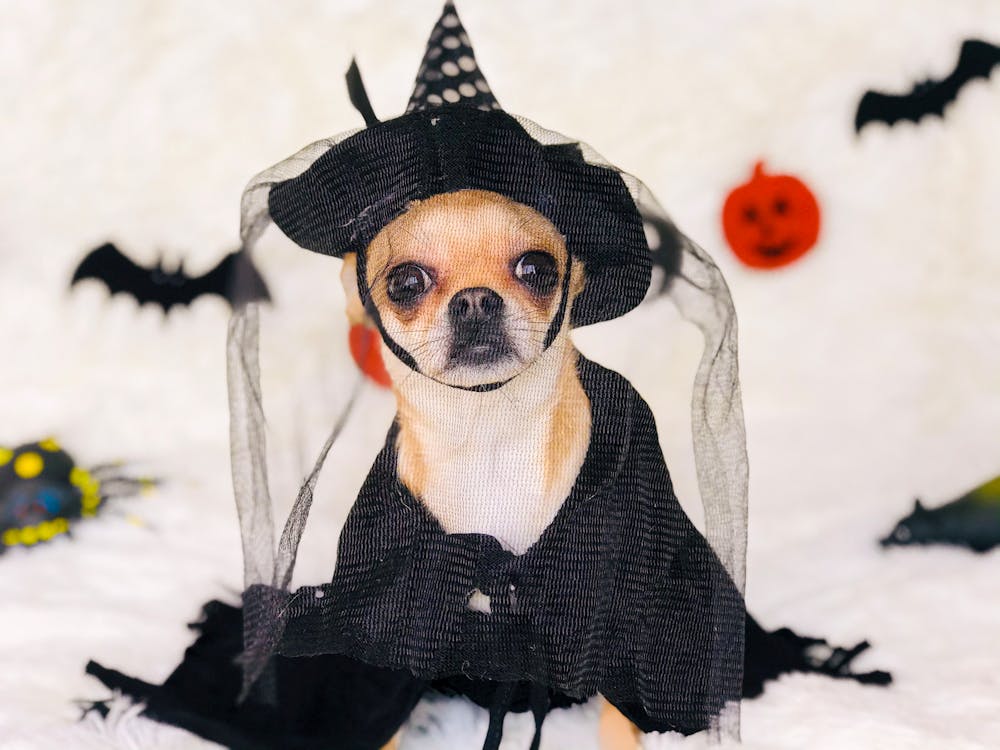 Mask up.
This goes without saying. Whether it's a Halloween mask, or the masks we've all come to know over the last year, make sure you're wearing one. Remember, if your costume mask doesn't cover your nose and mouth, then it's not considered effective.
If you're in the market for some themed masks, check out this small business.
Consider having a small gathering at home.
While I love a good Halloween party, in the interest of having a safe Halloween I'm likely to be attending smaller gatherings this year. Why not decorate the house and invite three to five friends or family members? It doesn't even have to be at Halloween, and you can have multiple!
*Provided everyone is safe and COVID-free, that is.
Make sure you have a designated driver.
This one goes without saying for having a safe Halloween, or any night out! If you're planning on having a drink or two, make sure you have a designated driver on hand. No one wants to end the night in the A&E department, or worse!
Consider using individually wrapped treats/providing alternatives.
Finally, and possibly most overlooked, is options in regards to Halloween snacks. Not everyone can tolerate sugar and it's important that everyone feel included during the festivities. Consider the use of alternative snacks such as low sugar, diabetic friendly and even something for vegans. Individually wrapped sweets are also a good call, especially as we get used to the 'new normal.'
---
What other suggestions do you have for a safe Halloween?