It's the time of year when everyone's thinking about their big spring clean! It's the season of renewal, new life, longer days, and encourages us to start afresh. But while some enjoy spring cleaning, others might shutter. It's a big task, after all. To dust away the hypothetical (or physical) cobwebs from the winter months. But there are ways the big spring clean can be made easier and even more enjoyable. Imagine!
So, grab your cleaning caddy, find your latest listen and get ready to scrub! But first, let's take a moment to explore why spring cleaning is important and how it can benefit your mental wellness.
---
Why it's important to spring clean & how it can help your mental health.
Spring is known as the season of rebirth, both in nature and modern society. The sun has reappeared and it's shining on all dust left over from winter. And wow, is there a lot!
As animals, we're naturally in tune with the seasonal changes around us. When it's cold and dark, we often want to hide away in comfort. But when the sun is high in the sky, we're at our most active and our happiest. It's a fact that most feel better in the summer months than in the winter. And many use that newfound energy to declutter and clean their living space.
Spring cleaning has been found to benefit our mental health and well-being in some of the following ways.
It gives us a sense of control.
It can be calming and even energising!
For some, there is a feeling of accomplishment!
You can feel a sense of peace in a tidy living space.
It inadvertently increases focus.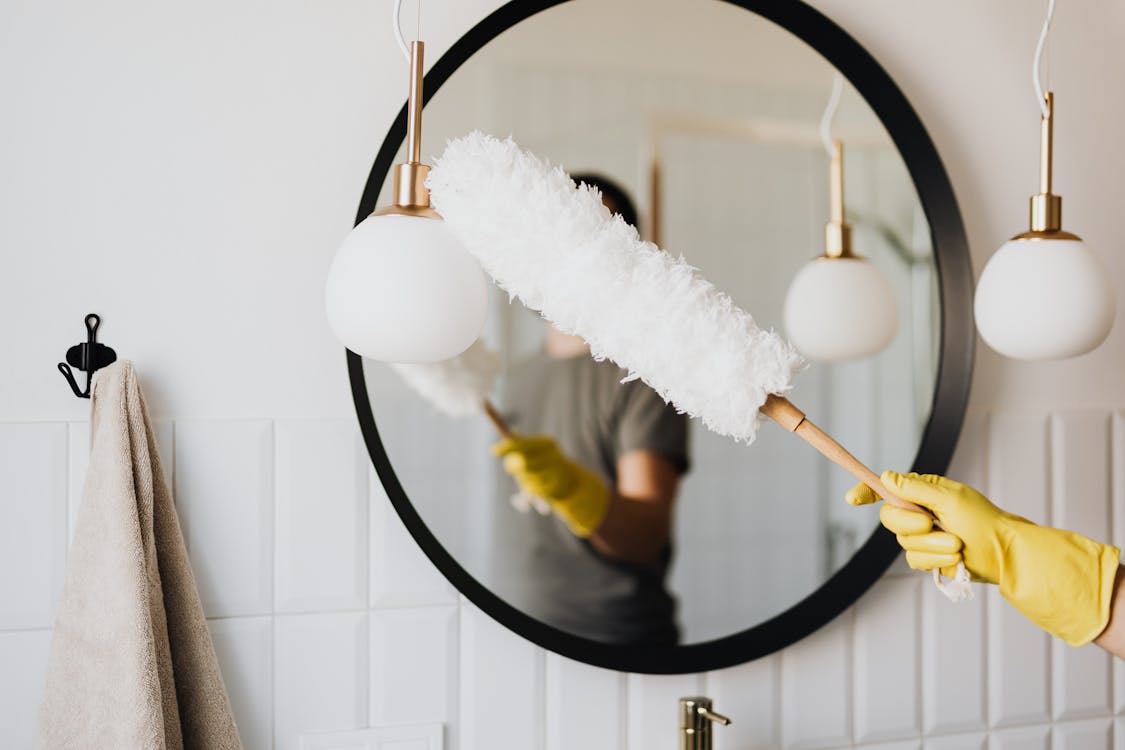 ---
10+ Tips to help your level up your big spring clean!
Pop on the tunes or podcasts!
There's no better way to pass the time than by listening to a feel-good playlist, or your latest podcast obsession! Lucky for you I've created a list of ten podcasts that I'm living for right now. They differ from true crime to 're-watch' podcasts. But if music is more your thing, there are hundreds of pre-made playlists available on both Youtube and Spotify to get you started.
Listening to something while you work can be a great way to make the time pass quicker. And can even lead to some creative ideas of your own. I personally listen to music while I'm cleaning because it allows my mind to wander into new and often interesting places. In fact, I've come up with some of my best writing ideas while cleaning my kitchen to low-fi tunes.
Take it one room at a time!
This is easier said than done when you have ADHD or get easily distracted. But taking it one step at a time cuts down on feeling overwhelmed! Plan to start in one specific area of the house and stick to that plan, no matter what comes your way. If you find items that belong elsewhere, set them aside with the aim to cover that area next.
I find myself getting overwhelmed with cleaning easily. If I start in the office, it easily spills out into the bedroom, the main bathroom and even the spare room. And before I know it I've spent six hours cleaning instead of the allocated one or two, and I have no energy to do anything else.
Don't do what I do! Be strict with yourself and your easily distracted mind. Those places will still be there tomorrow or even next week for you to tackle. Plus, if you take it one area at a time it means you're able to spend more time on getting it just how you want.
Remember to take a sit down when you need to!
Cleaning needs to be done, yes, but remember to take a coffee break to admire your handy work.
It'll get worse before it gets better!
If you're cleaning and decluttering, expect things to get a lot worse before they get better. For me, cleaning looks like pulling things off the shelve and out of cupboards and placing them into the middle of the floor. This way I can clean and declutter the items that have long since been forgotten.
Don't be alarmed! Things can look very untidy and out of control at this point. All you have is a pile of junk on the floor, the opposite of what you're trying to achieve. But take it one step at a time. Clean what needs cleaning and then siphon through the junk before you put it all back into place. You'll be surprised at the number of useless items you've hoarded. Or just straight-up rubbish you've kept.
I recently cleaned beneath our corner cabinets in the kitchen and found several out-of-date medications, old coffee beans and even our toaster! Now, after a thorough cleaning and decluttering, we have room to store the things that actually matter!
Carry around a 'supply caddy'.
Grab yourself a little box or plastic 'supply caddy' from your local discount store, and use it to keep some commonly used cleaning items. Yes, you may have a master cupboard where you keep all your detergents, bin bags, disinfecting sprays and cloths. But save yourself the time and energy, and pop some of those into a portable caddy! This prevents you from running back and forth to different areas of the house and keeps everything in one place.
You might not know what you need off-hand when you first start off, but over time you'll get to know what supplies you most commonly use.
Don't splash out, DIY or pound shop cleaning supplies can work too!
You don't have to use expensive supplies to get the most out of your spring clean. Cheaper items work just as well and you can even create your own at home. Check out these three natural cleaning solutions found within the home.
Baking soda.
That's it, nothing else needs to be added! Baking soda has been used for centuries as a way to clean, break down grease and even deodorise! Simply sprinkle it on your sinks, in your toilets or mix it with water to scrub your skirting boards!
White vinegar.
We use this on our glass, tough grease stains and even mould! It smells strong and works wonders. Simply put it into a spray bottle with a touch of tap water, and you'll never buy expensive window cleaning again!
Salt.
Salt is really versatile for many reasons. One of which is its cleaning properties. It works wonders for scouring off dirt, and its properties can be boosted by adding it to things such as vinegar and baking soda!
*Remember never to mix ingredients that you're not sure of. If in doubt, look it up!
Essential oils (for scent).
A nice smelling home is always great! I personally lovey different scents all year round, but some prefer seasonal smells. No matter when you decided to get cleaning, here are a some scents for you to choose from for Spring & Summer.
Spring Scents; Bergamot, Elemi, Lavender, Geranium, Jasmine, Tea Tree & Spearmint.
Summer Scents; Lime, Lemon, Orange, Grapefruit, Eucalyptus, Sandalwood, Basil, Geranium & Peppermint
Don't forget about those forgettable places!
Like the door handles, banister and even the skirting boards where dirt and grime can easily accumulate.
Create and keep a personalised cleaning checklist!
By keeping a checklist you're better able to see what was done, when and by who. If you have others living in the house with you, get them involved too! Especially tweens, teenagers and young people! It's a wonderful way to introduce them to keeping a home and can even be used as an incentive for things such as pocket money and treats.
Here is an example of a simple cleaning checklist created using Canva. Feel free to click through, edit and use it within your own home.
Break it down into fifteen to twenty-minute chunks!
You don't need to do all your cleaning in one day! Take your time and work at a pace that best suits you.
Always work from top to bottom!
It's common sense, really. If you spring clean from the top down, dirt naturally falls. And common sense will tell you that hoovering and mopping should be the last thing on your list to lift any dirt that's fallen.
Allow spring cleaning to be the opportunity to rearrange your space.
Finally, use your spring clean as a way to rearrange your living spaces. Even the smallest changes can make a big difference in our lives. I always love moving my furniture around or even just the small items I have as the decoration. For some reason it makes things feel fresh, even if all you did was add a new picture frame or a bunch of faux flowers.
---
Have you any other tips you'd like to share to level up your big spring clean?
Feel free to share any and every tip you can think off below in the comments! The more the merrier!